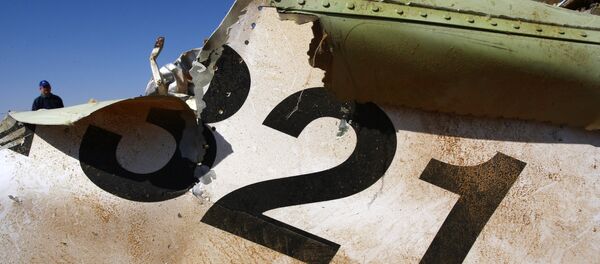 2 November 2015, 09:41 GMT
The Kogalymavia Airbus A-321 passenger airliner with 217 passengers and seven crew members on board crashed in the Sinai Peninsula on Saturday, leaving no survivors.
Earlier in the day, Russian airline Kogalymavia which operated the ill-fated A321 plane, said that external factors were the likely cause for the deadly crash in the Sinai Peninsula.
Russia's aviation watchdog, Rosaviatsia, said Monday that it was premature to come to any conclusions over the cause of the A321 passenger jet crash in Egypt over the weekend.
"It is completely premature to speak about the reasons of this as there are not grounds. And I'd like to call on the aviation community to refrain from any premature conclusions," Alexander Neradko said during an interview with Rossiya-24 television.
"There is still a lot of work to do concerning a detailed examination of the aircraft components, as well as decoding and analysis of the flight data recorders," he added.
"Yes, we know that the fact that debris were scattered over a wide area means that the destruction [of the plane] had taken place in the air and at a high altitude. But it is completely premature to speak about the reason [of the tragedy]."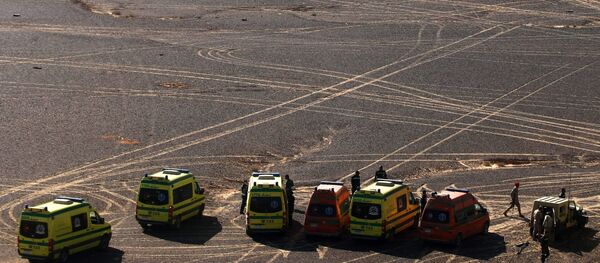 2 November 2015, 10:48 GMT
Transcript work on the A321 plane's black boxes will start when representatives of all interested countries arrive in Egypt, Neradko added.
"These are, in addition to Egyptian experts, representatives of the developer country, the producer, France and Germany, and representatives of the country where the aircraft was registered, Ireland. When all these envoys arrive in Cairo, transcription work on the flight recorders will immediately begin," Neradko said.
He added that the work was set to be carried out in Egypt, but may be moved to France if the experts voice any doubts over the investigation.