"Operation Army ATS continues in the south-eastern province of Aleppo," said Latakia representative of the Syrian Army, Brigadier General Ali Mayhoub, according to RIA Novosti. "In cooperation with civil defense groups we control more than 250 square kilometers, and returned stability in dozens of villages and towns in the region."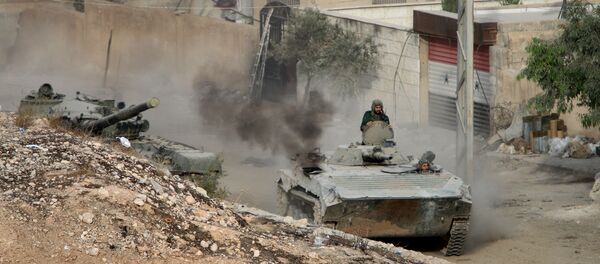 5 November 2015, 19:42 GMT
"The army in collaboration with the civil defense forces managed to open the way to Aleppo…to ensure the safe passage of this important route," Mayhoub added.
The general also said that terrorists sustained a large number of casualties and loss of equipment.
"The survivors fled toward Raqqa," Mayhoub said, referring to the self-proclaimed capital of the Islamic State terrorist group.
"Also, our army has strengthened control over the strategic height of Mraga and working to expand its control of the area. In addition, the air force is delivering pinpoint strikes against concentrates of IS and al-Nusra terrorist groups in the vicinity of the airport and near Kueres military air school in the village of Umm Arkile," Mayhoub said.
Also on Thursday, Syrian government forces gained a key hill in a northern suburb of the capital of Damascus. The Syrian Army has captured al-Mashtal Heights, as well as a number of buildings in the suburb of Harast.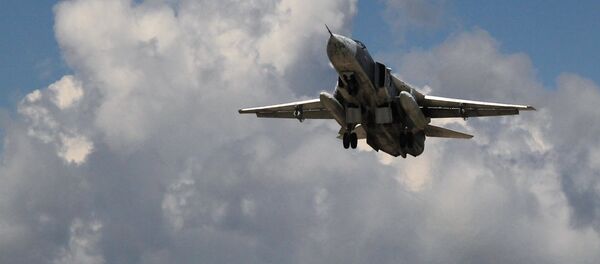 5 November 2015, 15:54 GMT
"Many terrorists have been killed and their weaponry and fortifications destroyed," Mayhoub said.
A large number of foreign fighters have also been killed in Damascus' southwestern suburb of Darayya.
The Syrian Army is now making a "serious advance" toward the ancient city of Palmyra.
"Our armed forces have taken control over two heights in the Homs Province. We have also made serious advance toward the city of Pal myra near al-Barayat," Mayhoub added. "Islamic State terrirst sustained heavy losses. Six vehicles and over 25 terrorists have been killed in the western outskirts of the Mheen village."