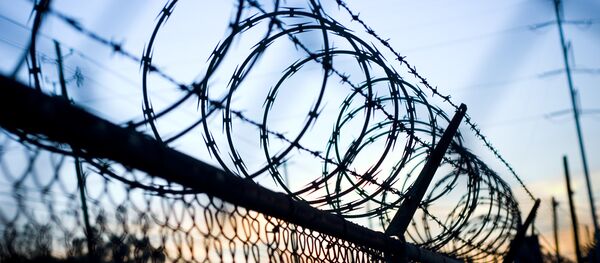 5 November 2015, 08:10 GMT
According to a new survey, 60 percent of Austrians say they are worried, and even scared, by the continuing arrival of huge numbers of refugees and migrants. 
In a poll by Unique Research, 35 percent of respondents said they wanted the government to stop accepting any more refugees.
Sixteen percent were in favor of Freedom Party leader Heinz Christian Strache's solutions to the crisis, which include constructing border fences anywhere where refugees and illegal migrants are trying to enter Austria.
Strache has been vocal in his criticism of the government's approach to the crisis, saying that Austria had become "almost a Banana republic" with the government providing a "catering service" for passing illegal migrants.
The government has said that it expects 85,000 asylum requests this year. To date, there have been 63,000, with as many as 500 per day last week, making Austria one of the highest recipients in Europe on a per-capita basis.
Austria aims to deter Afghan migrants with a new law which would force them to wait three years until they could bring family members.

— Gavin Hewitt (@BBCGavinHewitt) November 3, 2015 
According to government figures, 76 percent of current refugee applications are from men. Seventy percent of refugees and migrants are aged between 16 and 46 years old — and 25 percent are younger than 16.
The majority of people claiming asylum in Austria are from Syria, followed by Afghanistan and then Iraq.
People Smugglers?
Austrian activists who took part in a "refugee convoy" and drove cars into Hungary to pick up refugees and help them reach Austria and Germany could face criminal charges of people smuggling, Der Standard newspaper reports.
© REUTERS / Srdjan Zivulovic
A woman holds a baby as migrants queue to cross the border into Spielfeld in Austria from the village of Sentilj, Slovenia, October 28, 2015.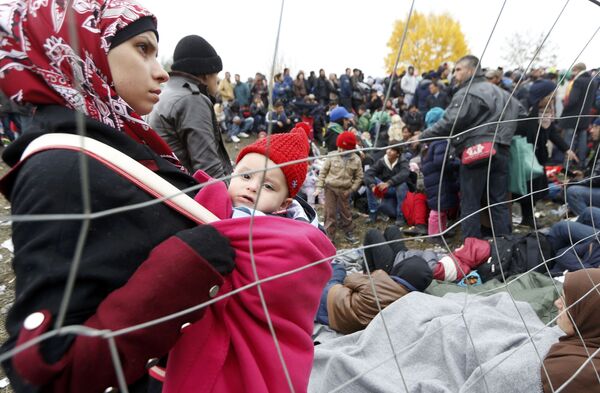 A woman holds a baby as migrants queue to cross the border into Spielfeld in Austria from the village of Sentilj, Slovenia, October 28, 2015.
According to the report at least three people are the subject of an investigation by the Vienna public prosecutor's office. Last September about 150 cars were driven to Budapest and Györ in Hungary, where they picked up refugees and drove them back to Austria for no charge.
The Linz public prosecutor is investigating another citizen initiative to help refugees — an online platform called 'fluchthelfer.in', which was launched in Germany and gives people tips on how to help refugees without facing prosecution.
The site's owners could face charges of encouraging people to commit crimes and disobey the law, and if convicted they would face a maximum of two years in prison. Authorities in Germany are also looking into the case.
However, human rights lawyers argue that many 'people smugglers' are in fact just doing what the government should be doing — giving refugees safe passage.
Unique Research shows 34 percent of respondents don't trust any of the country's politicians to come up with a good solution to the refugee crisis.