© Sputnik / Vasily Raksha
Milan Knezevic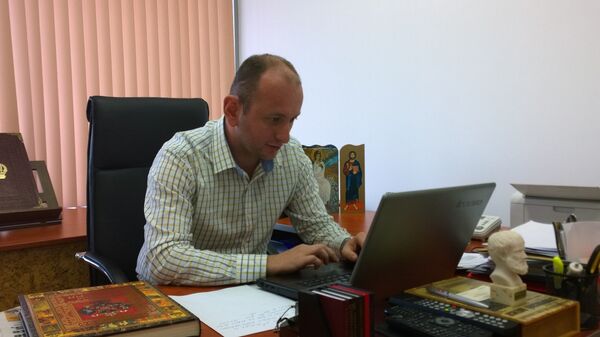 Milan Knezevic
© Sputnik / Vasily Raksha
Vasily Raksha — In an interview with Sputnik the politician stated that the majority of Montenegrins cherish no NATO membership dreams and therefore plunging the country into the bloc goes against the nation's will. The current neutral status is the best option, he said adding that it should be supported both Brussels and Moscow.
This concept is derived from two ideas, Knezevic explained.
The social-political aspect reflects Montenegro's unwillingness to be a pawn in geopolitical games of big powers. 
The historical point is that Montenegro and Serbia have painful memories of the NATO 1999 bombardments, and during that operation under a mocking name "Merciful Angel" the alliance dropped 15,000 tons of "dirty bombs" with depleted uranium on Yugoslavia, causing a dramatic surge in cancer, including in children.
"It was NATO's first military intervention since its formation in 1949 and we clearly understand that its aim was to destroy the socialist republic of Yugoslavia and snatch Kosovo from Serbia."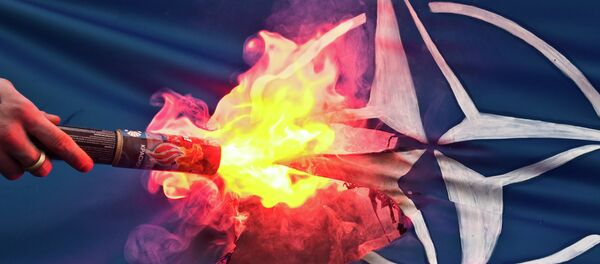 5 November 2015, 03:18 GMT
Knezevic promised that in the event of Montenegro receiving an invitation to join the military bloc, his party would gather a broad coalition of political organizations, intellectuals, and NGOs. He advocates a referendum as the only fair way of expressing Montenegrins' will on the issue.
He emphasized that such a balanced strategy would not create a stumbling block in Montenegro's path to the EU on the one hand, and it would preserve centuries-long nourished brotherly relations with Russia on the other hand.
However, the authorities decided to realize their aim of joining NATO through the parliament and avoiding a referendum, and 21 votes in the 81-seat unicameral Skupstina are enough to enact a corresponding law in accordance with the constitution, Knezevic explained. 
"They are trying to elicit a result that contradicts the very nature and the very spirit of the Montenegrin people."
As the DNP leader, Knezevic told the parliament that should it endorse accession to NATO, in the future other deputies would use the same trick to vote for secession.
Prime Minister Milo Djukanovic's Political Games
However, although it may sound surprising, irreplaceable leader Milo Djukanovic's ultimate aim is not to pit Montenegro against Russia pushing it into NATO – the goal he pursues is to remain in power tacking between the changing circumstances, Knezevic elaborated.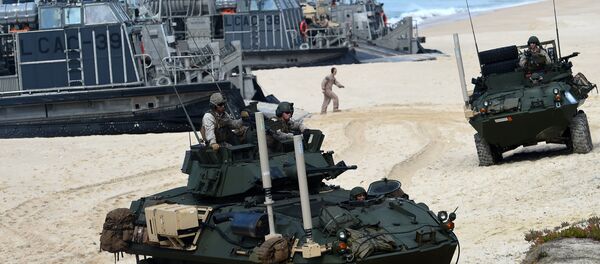 5 November 2015, 10:36 GMT
Russia quickly recognized Montenegro's independence after the 2006 referendum and became its main investor pouring huge sums of money into it until 2008. And Djukanovic appreciated this help calling the 2006-2008 period of Russian investments and recognition as the era of Montenegro's greatest development.
However, later he changed track: in 2008 Montenegro unexpectedly recognized Kosovo, worsened relations with Serbia, and Djukanovic forgot Russia's helping hand and started to play the NATO card.
Why? In Knezevic's opinion, the longstanding leader presents such "leaps" as "civilizational achievements", but if truth be said, he only sticks to his top position balancing between the West and the East.
The Montenegrin opposition is in its turn is adamant in its attitude to "brother ally Russia" and has not forgotten Moscow's assistance that gave an impetus to the young country's development, the DNP chairman underscored.
"But Djukanovic abused Russia's friendship and kind approach."
Milan Knezevic opined on the roots of the massive social protest that began on September 27.
"In 2006 [after the referendum on separation from the State Union of Serbia and Montenegro] a private state emerged, drowning in criminal and corruption. Five percent of those close to Djukanovic enjoyed the benefits of the regime but 95 percent were on the edge of social existence."
The protests targeted the "unbearable economic conditions of the majority of Montenegrins." The DNP accused Djukanovic of crippling the country's economy including the Podgorica Aluminum Plant that accounted for 15 percent of the GDP. Some enterprises went bankrupt; some were privatized by "friends." Instead, shopping malls are being built. Montenegro has even lent its famous tourist resorts for a 100 years. 
Mass media was also taken under control, spreading Russophobia and NATO propaganda. Those who oppose NATO membership are declared enemies of the state, Knezevic said.
This group has been suppressing Montenegro for years, he said, adding with sarcastic laughter that Djukanovic has been in power for 27 years, nearly catching up with the length of Joseph Stalin's reign.
In 2016 Montenegro will hold elections, but protesters do not want to wait, accusing Djukanovic of vote rigging:
"He will organize those elections and their outcome will be predestined. That's why we want an interim government".
Mind Manipulation
Djukanovic is stirring up Russophobia, resorting to conspiracy theories and finding external enemies as well as internal. He accused Russia and Seribia of fueling the protests in Mintenegro.
"But show me any evidence of their trace in those protests, and I will leave politics."
The prime minister's party even falsified history to match the present attempts to alienate Montenegro and Russia by inventing drawbacks in their common history.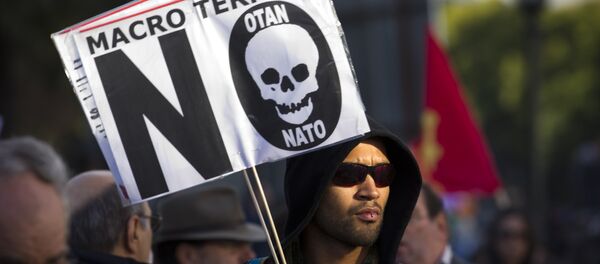 4 November 2015, 18:24 GMT
During NATO debates, one of the deputies called Soviet soldiers-liberators "villains who committed crimes in Berlin and Yugoslavia," and no one of his party-members contradicted him.
Another example is bending the truth of a more distant past. The Mass media is now spinning the idea that relations between Russians and Montenegrins were not that ideal and Russia used Montenegro for its own interest. A group of historians is seeking to include such myths into education courses.
A flagrant instance is the manipulation with historic figures. Petar I of Montenegro, a saint who is regarded as the founder of Montenegrin statehood, fought against Napoleon on the side of Russia and made a testament warning to anathematize every Montenegrin who would step away from "Mother and Defender Russia".  Now the same group of historians is trying to change his words.
"If NATO existed in those times, these historians would be trying to prove that Petar I meant NATO, not Russia".
Milan Knezevic said with a sigh that he could not even think of Montenegro becoming a legitimate target of Russia if it joins NATO and has to confront Moscow as a member. The very idea of a conflict between the two countries is ridiculous.
"I am sure there is not a single Montenegrin who – God forbid! – in case of an armed conflict would fight against Russian brothers".
Citing the strong support between the two countries, he recalled that in 1905, when Russia engaged in a war with Japan, Montenegro also declared war on Japan, and Montenegrin officers fought in the Far East.
"Unfortunately, the war ended to quickly for Montenegrins to show their military mastery".