Just over US$544 million (€500 million) has been pledged so far, leaving a shortfall of nearly US$2.5 billion (€2.3 billion) needed for the UN's Refugee Agency, the World Food Programme and other organizations.
EC president Jean-Claude Juncker called on member states to act urgently:
"Noble words need to be followed by concrete actions back home."
It's not just money that member states have failed to materialize. The European Asylum Support Office has requested 374 more experts and Frontex, the European border control, has asked for 743 more guards. But EU countries have so far provided less than half of the experts and border guards needed to help tackle the crisis.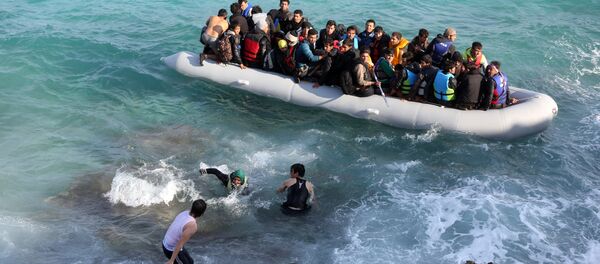 2 November 2015, 17:00 GMT
And out of the 160,000 refugees that member states agreed to relocate from Europe's most affected countries, Greece and Italy, only 116 have been relocated – and only 1,418 places have been made available – and by only 14 member states.
Peter Bouckaert, director of Human Rights Watch, called the European Union's response so far to the refugee crisis "outrageous", stressing that "Europe's leaders still have not taken the steps necessary to help prevent such unnecessary tragedies".
"What is the European Union doing?" he asks and says the resources deployed by Greece and the EU "remain woefully inadequate".
Europe Keeping Refugees at Arm's Length
One thing the EU is doing is spending money on drones to improve border surveillance. US$26 million (€24 million) is to be spent researching "border security" issues in 2016.
The money is to "support missions ranging from surveillance to detection of marine pollution incidents, and including early identification and tracking of illegal activities and illegal communication".
Another US$8.7 million (€8 million) will be spent on projects to improve surveillance technologies "to provide higher quality detection capabilities and imaging".
The development of border control drones and heightened surveillance techniques suggests an increasing arms-length approach to the refugee crisis, with the priority put on surveillance of people – not reasons they are in Europe in the first place and best ways to treat them humanely.
Peter Bouckaert, director of Human Rights Watch, recently witnessed rescue missions on the Greek island of Lesbos. He said:
"The reality is, that despite months of pleas for more assistance and preparation, the resources deployed by Greece and the EU remain woefully inadequate for the task in hand, and much of the most dangerous work is done by volunteer."
Bouckaert was told by the head of the Hellenic Coast Guard that the service was "completely overwhelmed" and that "he had been begging for more EU assistance for months".
EU leaders recently agreed to increase its Frontex presence in the Aegean Sea – but member states have so far provided less than half of the 743 border staff requested. Peter Bouckaert said:
"Until that assistance comes, it will continue to be volunteer who are at the forefront of the effort to save lives."