PRAGUE (Sputnik) — Slovakia sent 20 police officers to Slovenia on Friday to help Slovenian border guards protect the European Union's external frontier, Slovakian Prime Minister Robert Fico said in a televised press conference.
Both countries are on the periphery of the bloc's borderless Schengen Area, which has seen tens of thousands of migrants and refugees attempt to cross into the European Union since the start of the year.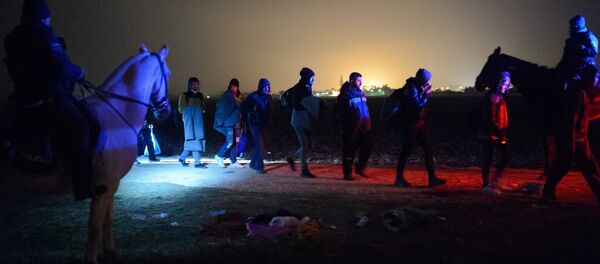 6 November 2015, 15:25 GMT
"We have been asked to assist [the Slovenians] in protecting the border amid a huge influx of refugees," the prime minister said. "We are sending the requested number of police officers. We would have sent a hundred if we had been asked to, but for now it is a unit of 20 plus all the necessary vehicles."
A total of 400 foreign police forces will travel to the small central European nation by the end of November, according to Fico. Slovakia has already sent 50 policemen to help Hungary.
Over 710,000 migrants arrived in the European Union within the first nine months of 2015, according to the EU border agency Frontex.