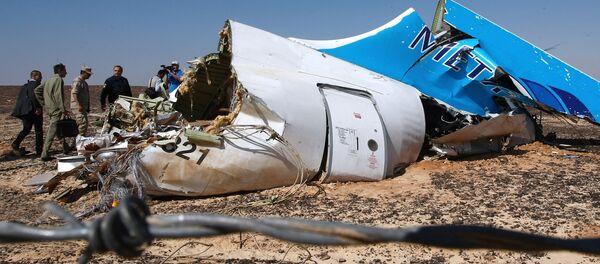 5 November 2015, 18:18 GMT
MOSCOW (Sputnik)
–
According to The Times newspaper, UK and US intelligence services used satellite systems on Wednesday to intercept e-mails between the Islamic State (ISIL) jihadist group militants in the region of the A321 crash and those in Syria.
The newspaper added that the messages showed that the bomb could had been brought aboard by a passenger or by some of the ground personnel.
Earlier in the day, the British newspaper The Telegraph reported that the UK authorities had grounded flights to the Egyptian resort of Sharm el-Sheikh after data intercepted by their intelligence service pointed to an upcoming terrorist attack in Egypt.
On Wednesday, the Office of the UK Prime Minister David Cameron announced that all flights from Sharm El-Sheikh International Airport to the United Kingdom were to be suspended because of suspicion that the Russian airliner "may well have been" brought down by a bomb.
On Saturday, an Airbus A321, en route from Egypt's resort of Sharm el-Sheikh to St. Petersburg, crashed on the Sinai Peninsula. All 224 people on board were killed in what has become the largest civil aviation disaster in Russian and Soviet history.
Moscow said that no theory on the flight crash can be excluded, and it was too early to point to one specific version of events.