SHARM EL-SHEIKH (Sputnik) — Egypt will not be able to offset the losses its tourism industry looks likely to sustain following Russia's decision to halt passenger flights to the country, a member of the board at the Egyptian Federation of Chambers of Tourism said Saturday.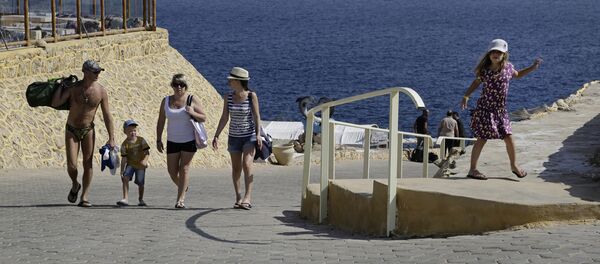 7 November 2015, 17:27 GMT
Russian President Vladimir Putin ordered on Friday to suspend flights to Egypt indefinitely after a Russian airliner crashed in the Sinai Peninsula shortly after it took off at the popular Red Sea resort of Sharm el-Sheikh, killing all 224 people on board.
"No other country can make up for the drop in the numbers of Russian tourists coming to Egypt," Hossam Elshaer told RIA Novosti.
Around 3.5 million Russian holidaymakers come to Egyptian seaside resorts every year. "We won't see this figure even if we refocus [on other groups]," said Elshaer, who owns a chain of hotels on the Red Sea.
Revenues from tourism account for around 12 percent of Egypt's gross domestic product. Before the Russian plane crash, the nation expected to welcome some 10 million foreign tourists by the end of this year, with Russians making up the vast majority of holidaymakers.