CHISINAU (Sputnik) — Eight more people succumbed to their injuries on Saturday. Around a hundred of blaze victims are still in hospitals, some of them in critical condition.
The fire broke out on October 30 during a rock concert at the Colectiv nightclub, triggering a stampede that killed 27 people, while some 200 were hospitalized.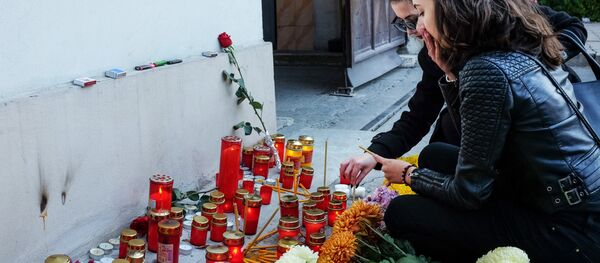 31 October 2015, 14:15 GMT
Romanian President Klaus Iohannis wrote on his Facebook page on Saturday that his thoughts and prayers were with the bereaved families.
The deadly nightclub fire promoted massive protests in Bucharest, with thousands taking to the streets in the capital every night to protests against the government.
Local media estimate that around 3,000 protesters blocked road traffic at Bucharest's central square late Saturday. Demonstrators are protesting corruption, low wages and pensions and are calling for a snap parliamentary election.