MOSCOW (Sputnik) — The Syrian armed forces have repelled an attack of Islamic State (ISIL) militants on an airbase near the eastern city of Deir ez-Zor, destroying 58 jihadists, local media said early Monday.
 Dozens of ISIL fighters were also killed in two cities of the Deir ez —Zor province on the border with Iraq, the national news agency SANA said.
The base near Deir ez-Zor has been a flashpoint in the struggle between the Syrian troops and ISIL militants as it is considered to be a stronghold of the Syrian army.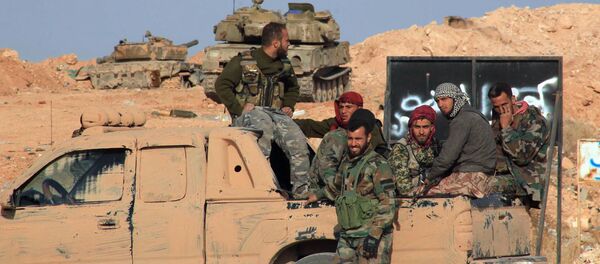 5 November 2015, 19:51 GMT
Syria has been in a state of civil war since 2011, with government forces battling against the so-called moderate opposition and various extremist groups, including ISIL and the Nusra Front.
On September 30, Russia launched an air operation in Syria at the request of President Bashar Assad, targeting ISIL positions with precision airstrikes. According to the Russian General Staff, militants have been retreating.
Russian President Vladimir Putin confirmed in September that the time frame for Russia's campaign in Syria would be limited to that of the Syrian army's offensive. The Russian leader ruled out the participation of Russian armed forces in a ground operation in Syria.