WASHINGTON (Sputnik) — The US-led coalition against the Islamic State launched 29 airstrikes on targets in Syria and Iraq, the Combined Joint Task Force — Operation Inherent Resolve (CJTF-OIR) announced in a statement on Wednesday.
"In Syria, coalition military forces conducted 13 strikes using attack, fighter, and bomber aircraft," CJTF-OIR stated. "Separately in Iraq, coalition military forces conducted 16 strikes coordinated with and in support of the Government of Iraq using bomber, attack and fighter aircraft against ISIL [Islamic State] targets."
The airstrikes were undertaken as the United States has vowed to target key Islamic State trade routes and cut off the terrorist group's financing.
In Syria, the coalition airstrikes targeted Islamic State oil and gas separation plants, tactical units, buildings and headquarters.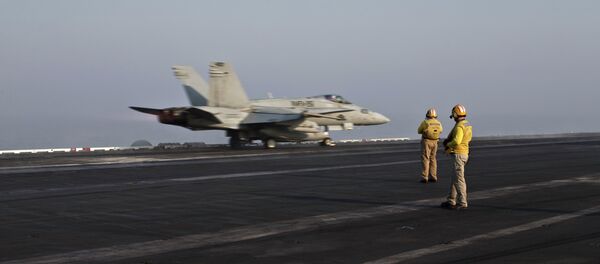 17 November 2015, 14:54 GMT
Meanwhile in Iraq, the aerial attacks hit Islamic State weapons caches, mortar and fighting positions as well as explosive devices.
The 65-nation coalition has been conducting airstrikes against the Islamic State since August 2014.
The Islamic State claimed responsibility for Friday's terrorist attacks in Paris that killed at least 132 people and more than 350 wounded. Since, France has vowed retaliation and bombed Islamic State positions in Raqqa, Syria over the weekend.