This marks a truly historic moment for the Russian Air Force. Now, the Bear and the Blackjack have taken part in an actual battle for the first time in their history.
The aircraft launched a total of 34 airborne cruise missiles destroying 13 key targets, Russian defense officials told President Vladimir Putin.
These include "command posts that were used to coordinate ISIL activities in the provinces of Idlib and Aleppo, munition and supply depots in the northwestern part of Syria," Russian General Staff chief Gen. Valery Gerasimov noted.
Russian Senator Franz Klintsevich maintains that a more vigorous strategy in Syria could well bring a positive change to the Middle East. Moscow, according to the senator, is already doing its part. Russia has deployed strategic aviation and will add additional aircraft to its fleet engaged in the counterterrorism campaign in Syria.
The Tupolev Tu-160 Blackjack strategic bombers
© Sputnik / Vladimir Pesnya
/
Earlier, Gerasimov confirmed that Russian forces in Syria will be strengthened with advanced 37 aircraft, including eight Su-34 (Fullback) strike fighters and four Su-27 fighter jets.
"If the US-led coalition fights against terrorists as efficiently [as we do], the situation in the Middle East could change dramatically," he told reporters. "At the moment, the US does not seem to be ready to do this. At the same time it has become increasingly difficult for Washington to explain why it does not want to cooperate with Russia," he added.
On Wednesday, the Federation Council, the upper house of Russia's parliament, is expected to pass a decree to emphasize that the common threat to all mankind could only be tackled through joint efforts of all countries.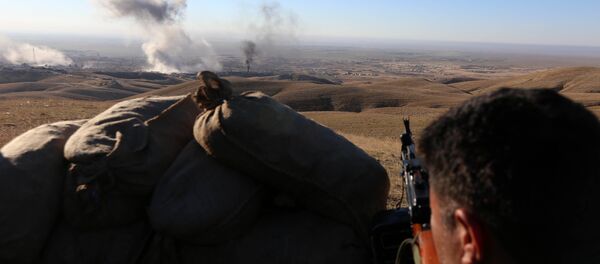 17 November 2015, 16:03 GMT
Russia is determined to continue its aerial campaign in Syria, launching massive airstrikes against militants.
Since the beginning of the air campaign, Russian Aerospace Forces have carried out around 1,800 sorties, destroying some 2,700 terrorist targets, according to the General Staff. Several hundreds of militants have been killed, dozens of command centers and depots have been destroyed.
The operation was launched on September 30 following a formal request from the Bashar al-Assad government. The US-led counterterrorism efforts have not been authorized by Damascus.
© Sputnik
Russian air strikes against Islamic State militants in Syria

Russian air strikes against Islamic State militants in Syria