The beating occurred on July 5th,, 2014 in East Jerusalem, amid protests that followed the alleged abduction and murder of the teen's 16-year-old cousin, Mohammed Abu Khudeir, by three Israeli Jews.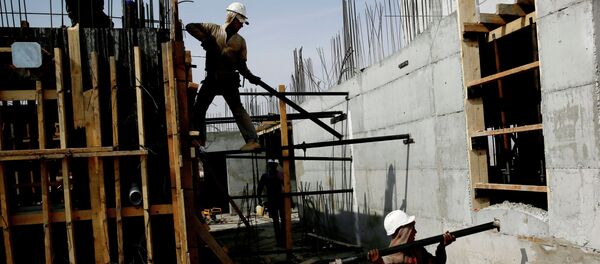 18 November 2015, 22:23 GMT
Police accused Tariq Khdeir of attacking security officers and rioting, but the boy claimed he was picked up randomly and didn't take part in the clashes. Nevertheless, he was arrested along with five others and severely beat up after detention.
According to Addameer, a Palestinian group supporting prisoners in Israeli jails, Tariq had been detained without charge and was denied medical treatment for five hours although his face was heavily injured, he had a black eye and his lip was swollen.
The beating was captured on camera by witnesses and released online. Disturbing footage featuring one of the officers holding Tariq Khdeir down while the other punched and kicked him ended up widely spread by human rights groups.
The incident drew the attention of American authorities. US State Department said it was "profoundly troubled" by reports on the incident and criticized any excessive use of force.
"We are calling for a speedy, transparent and credible investigation and full accountability for any excessive use of force," said Jen Psaki, the US state department spokeswoman at the time.
The attention from US authorities and the media, however, didn't lead to the convicted for those responsible.
17 November 2015, 22:38 GMT
On Wednesday, Jerusalem Magistrates' Court sentenced the officer, who was convicted of assault and battery and whose name was not released, to 45 days of community service and a suspended term of four months in prison, a spokeswoman for the Justice Ministry's police internal affairs department told Reuters.  
"We are in regular communication with the government of Israel regarding its obligation to provide protection and security for US citizens," US official commented, this time more cautiously, "This case has now been reviewed through the Israeli judicial system and the Israeli court has issued a ruling. We would refer you to the government of Israel for further information."