The so-called "AquAdvantage salmon" were created in 1989 and submitted to the FDA for approval in 1995. The fish are modified to carry a growth hormone gene from Chinook salmon and more DNA from the eel-like ocean pout fish.
As a result, the modified salmon grow to market-size in about half the time of unmodified Atlantic salmon.
The FDA says the modified salmon are safe to eat, just as nutritious as other salmon, and should pose no threat to the environment.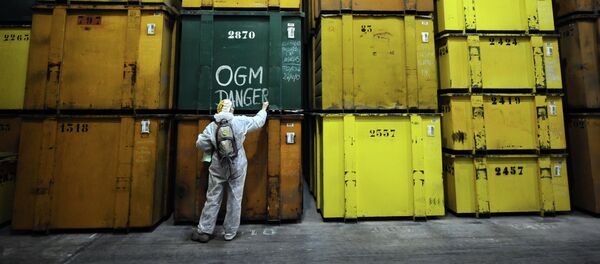 28 October 2015, 15:32 GMT
Over the past 20 years, the FDA has assessed the nutritional profiles and hormone levels, comparing the modified fish to unmodified farm-raised Atlantic salmon. Because the agency found no significant difference, the modified salmon are not required to be labeled as such.
The breeding stock will be kept in tanks in Canada, while the fish will be raised in tanks in Panama, in accordance with the FDA's approval. The Panama site will raise all-female, sterile fish.
Both facilities have multiple physical barriers to keep the fish and eggs from escaping, including tank covers, nets, jump fences, covered drains, and closed septic systems. Additionally, natural water systems surrounding the Panama site are expected to be lethal to the salmon.