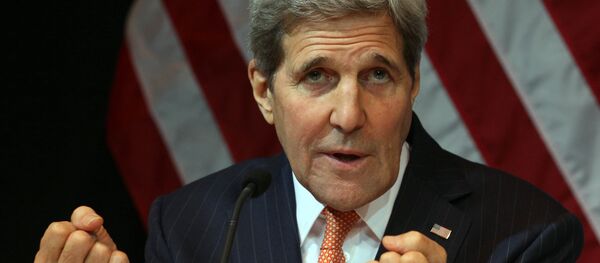 16 November 2015, 14:56 GMT
WASHINGTON (Sputnik) – US State Secretary John Kerry will visit Israel, the United Arab Emirates and Palestine on November 22-24 to discuss the Syrian crisis and the Israeli-Palestinian conflict, the State Department said Saturday.
"In Abu Dhabi, Secretary Kerry will meet with senior government officials to discuss a range of bilateral and regional political and security issues, with a focus on Syria," spokesman John Kirby said.
"While in Tel Aviv, Jerusalem, and Ramallah, Secretary Kerry will discuss bilateral and regional security issues, including Syria and Daesh [Islamic State], and continue discussions on stopping the violence in Israel, Jerusalem and the West Bank, and improving conditions on the ground," the spokesman added.
The decades-long conflict between the Palestinians and Israelis has recently seen increased tensions, with dozens of people killed on both sides.
Syria has been mired in a civil war since 2011. Opposition factions and extremist groups, including the Islamic State and the Nusra Front, are fighting the Syrian army and seek to topple the government.