Some Americans question whether it's right to spend so much money on foreigners seeking asylum while there are so many homeless Americans in desperate need of help. But it seems that helping one group of people doesn't necessarily mean the other will be neglected.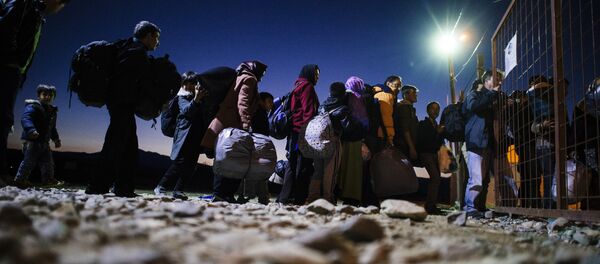 25 November 2015, 15:55 GMT
Two refugees from Syria, brothers Yazan and Nabil Al-Salkini, who fled Syria with their families several years ago and recently moved to Seattle, are doing everything they can to give back to the city that took them in.
Yazan, 19, and Nabil, 14, volunteer at events aimed at helping people in need. Last Saturday at the "Day of Dignity," organized annually by Seattle's Muslim community and the nonprofit Islamic Relief USA, Yazan was handing out water and burritos.
He explained to reporters that he and his family left Syria because they had no other choice. Their home was bombed, burned down, and he and his younger brother couldn't go to school because of the civil war. They decided to flee the country because otherwise they would be persecuted — or killed.
"Daesh does not represent Islam," Al-Salkini told the Seattle Times, referencing the self-proclaimed Islamic State terror group. "We want people to understand that there is a huge difference."
At least those to whom Yazan and Nabil extended a helping hand seemed to be aware of the difference.
"It is a shame our politicians are condemning a whole group of people for the acts of a few crazy ones," one of those receiving services, Ken Peterson, told the Seattle Times. "They don't have to organize this event, and we (the homeless) really appreciate things like this."
A homeless veteran who also waited in line at the "Day of Dignity", Damon Lyons, told local news station KUOW that though more funding for homeless vets would be nice, he doesn't want it to be at the expense of refugees.