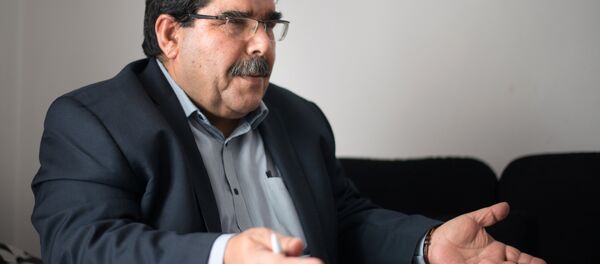 25 November 2015, 14:31 GMT
The Turkish military has sent 20 more tanks to an armored brigade it has stationed at Turkey's western border with Syria, Turkey's Anadolu agency reported on Wednesday.
"Accompanied by police and gendarmes, 20 tanks were sent by rail from Turkey's western provinces by railway to Gaziantep in the south of the country, and then redirected to the Syrian border," a military source told the agency.
It was also reported that the Turkish air force sent 18 fighter jets on a patrol exercise at its border with Syria on Wednesday.
Earlier in the day, Russian Foreign Minister Sergei Lavrov said during the press conference in Moscow that Russia supports the idea put forward by French President Francois Hollande of closing the border between Turkey and Syria in order to stop the lifeline for militants.
"I think this is a good suggestion. I think that President Hollande will tell us about this more in detail tomorrow. We would be ready to seriously review measures necessary for this…Many say that in closing the border, we would stop or sever the terrorist threat in Syria," he said.
The Russian Foreign Minister has help a press conference following a downing of the Russian Su-14 jet by Turkish F-16 over Syria.
On Tuesday, a Russian Sukhoi Su-24 jet crashed in Syria. Russian President Vladimir Putin said that the plane was downed by an air-to-air missile launched by a Turkish F-16 jet over Syria, falling 4 kilometers (2.5 miles) from the Turkish border. Ankara claimed it downed the Russian aircraft because it violated Turkish airspace. Moscow has firmly denied the allegations.