Security has been tightened for senior officials entitled to "top protection," the Counter Terrorism Center said in a statement obtained by Reuters.
The Center's director general, Janos Hajdu, said the suspects were detained last week as police ramped up investigations that touched on the security of the officials, whom he declined to name.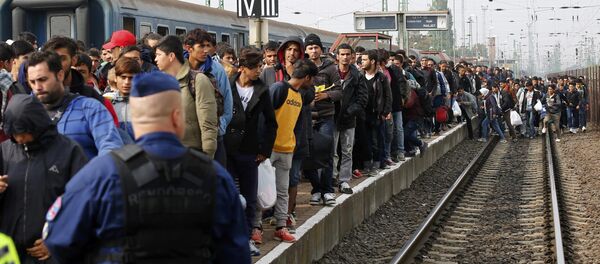 25 November 2015, 16:56 GMT
After the suspects in the car were detained, authorities searched a house and found a bomb-making laboratory with "explosives and devices that were suitable for killing people to the utmost extent," Hajdu told the state television channel M1.
He said police also caught two other people with submachine guns, ammunition and silencers in their car. It was not clear if the two groups were connected.
Asked whether the suspects had jihadist links, Hajdu said: "Let me reply to that in the next few days." Hajdu declined to disclose the suspects' identities, nationalities or presumed motives but said the case had an international dimension, Reuters reported.
M1 said two of the suspects had been formally placed under arrest and a court would decide on the others on Wednesday.