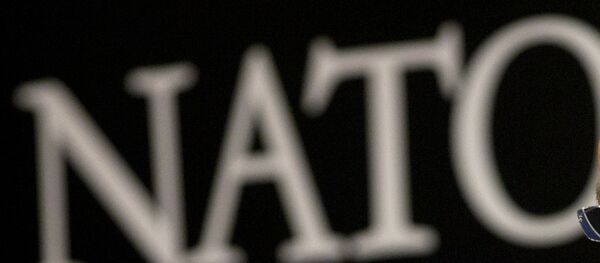 26 November 2015, 14:26 GMT
While many have long speculated about how ISIL is selling its oil and who is purchasing its supplies, tensions increased following the shooting down of a Russian jet earlier this week by Turkish forces.
Russian President Vladimir Putin labeled the attack a "stab in the back" and accused Turkey of being "accomplices of terrorists" in reference to the country's alleged links to ISIL figures.
Without naming any countries in general, Putin accused some states of covering for the "illegal trade of oil, people, drugs, artworks and weapons" of jihadist groups.
"It is the passivity of some countries, and often direct complicity in terrorism that led to the creation of the nightmarish phenomenon that is the so-called Islamic State [ISIL]."
Russian Prime Minister Dmitry Medvedev backed up the attack on Ankara, saying: 
"Turkey's actions are de facto protection of Islamic State [ISIL]. This is no surprise, considering the information we have about direct financial interest of some Turkish officials relating to the supply of oil products refined by plants controlled by ISIL.
"The reckless and criminal actions of the Turkish authorities… have caused a dangerous escalation of relations between Russia and NATO, which cannot be justified by any interest, including protection of state borders," Medvedev said.
— Dmitry Medvedev (@MedvedevRussiaE) November 25, 2015
Second, Turkey has demonstrated that it is protecting ISIS. Third, friendly relations between Russia and Turkey have been undermined

— Dmitry Medvedev (@MedvedevRussiaE) November 25, 2015​
Among other critiques of Turkey's alleged association with ISIL is the country's failure to effectively close off its border with Syria, which many believe has allowed jihadists, along with weapons and supplies to flow into Syria, via Turkey.
Is Syria Buying ISIL Oil?
However, while Turkey has borne the brunt of criticism in recent times, there have also been suggestions by the US that some Syrian officials linked to Bashar al-Assad's government, were involved in purchasing oil from ISIL.
On Wednesday, the US Treasury Department sanctioned a Syrian businessman accused of serving as a "middleman" for oil transactions between ISIL and Damascus.
The ruling has implied that the Syrian government is in fact trading with arguably its biggest enemy on the ground, by buying oil from its own refineries that have fallen under ISIL control.
George Haswani and his company, HESCO, have since been banned from any business transactions with US nationals, while any US assets have been frozen.
ISIL Making US$1 Million a Day
While accusations fly back and forth over who in fact is facilitating ISIL's growth and business activities, many experts have tried to get to bottom of the jihadist group's actions.
Dr Carole Nakhle, director of the London-based independent advisory firm Crystol Energy, said it's very difficult to put a figure on how much ISIL is making from the sale of oil.
"No one knows how much ISIS [ISIL] is making from oil sales. Estimates have varied between US$1 to 1.5 million per day," Nakhle told Sputnik.
"ISIS [ISIL] is selling most of its oil locally, within its own controlled territory — all for cash."
With the international community now pledging to mercilessly crack down on the group in the wake of the Paris and Beirut terror attacks, and the downing of the Russian passenger jet in Egypt, Dr Nakhle says efforts have been made to stop ISIL's sale and distribution of oil, with US and Russian forces targeting trucks carrying the group's supplies.
"Previously, when oil facilities were targeted, ISIS [ISIL] managed to get production back on stream relatively quickly. This time, however, the Americans warned of targeting the trucks… driven by commercial drivers — not ISIS — as the main means of transporting the oil from ISIS to buyers. This can curb ISIS' oil trade and therefore, major source of revenue."