The court ruled that editor-in-chief of the opposition Cumhuriyet newspaper Can Dundar and Erdem Gul, the paper's Ankara bureau chief, be taken into custody following several hours of questioning.
In May, the Cumhuriyet paper published what it said were images of Turkish trucks carrying ammunition to Syrian militants fighting against President Bashar Assad. It linked the seized trucks to the Turkish National Intelligence Organization (MIT).
The images reportedly date back to January 2014, when local authorities searched Syria-bound trucks, touching off a standoff with Turkish intelligence officials. Cumhuriyet said the images were proof that Turkey was smuggling arms to rebels in Syria.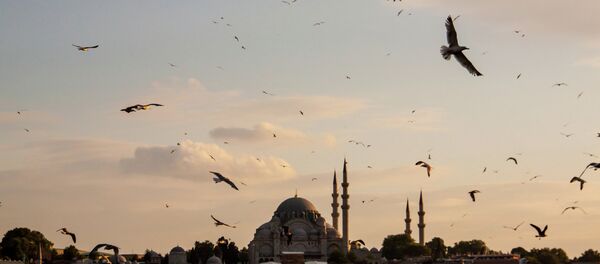 26 November 2015, 18:52 GMT
The revelations, published in May, caused a political uproar in Turkey, with an enraged President Recep Tayyip Erdogan vowing Dundar would pay a "heavy price".
Turkey has vehemently denied aiding Islamist rebels in Syria, such as the Islamic State group, although it wants to see Assad toppled.
Gul told reporters that he and Dundar are accused of helping the moderate Islamic movement led by US-based cleric Fethullah Gulen, a former Erdogan ally who has turned into his No.1 foe.
Government officials accuse Gulen's supporters of stopping the trucks as part of an alleged plot to bring down the government. The government has branded the movement a "terror organization" although it is not known to have been engaged in any acts of violence.
Reporters Without Borders had earlier Thursday urged the judge hearing the case to dismiss the charges against the pair, condemning the trial as "political persecution".