Ever since an anti-abortion group released heavily edited and intentionally misleading videos over the summer claiming to show Planned Parenthood clinics were in the business of selling fetal tissue for profit, Republican lawmakers and 2016 presidential candidates have clung to extremist rhetoric — even after the information was discredited and the non-profit women's health organization was cleared of any wrongdoing.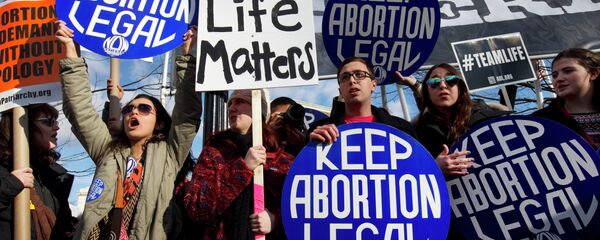 28 September 2015, 20:35 GMT
While the official motive for Friday's massacre that left three dead and several injured has not yet been released, shooter Robert Dear reportedly told investigators after surrendering that there would be "no more baby parts."
It doesn't take a neurosurgeon to figure out what is behind this attack, although GOP 2016 hopeful Ben Carson still doesn't seem to understand, as he victim-blamed on Sunday morning's episode of ABC's This Week by stating; "there is no saint here in this equation."
Women's rights advocates, on the other hand, have a different take on the situation.
"They have ignited a firestorm of hate. They knew there could be these types of consequences, and yet they ratcheted up the rhetoric and ratcheted it up and ratcheted it up," Vicki Saporta, president of the National Abortion Federation, a professional association for abortion providers, told the Washington Post. "It's not a huge surprise that somebody would take this type of action."
Some are not holding back in the slightest, stating that the politicians who are radicalizing their base need to back off.

"Politicians need to stop escalating the rhetoric against Planned Parenthood, and that means by and large the Republican Party,'' said Laura Chapin, a pro-abortion rights political communications consultant and former press secretary to former Colorado governor Bill Ritter (D). "Right-wing politicians need to back off.''
All three victims of Friday's attack on a Colorado Springs Planned Parenthood have now been identified, and include a police officer, an army veteran, and a beloved mother of two. Their names are Garrett Swasey, Ke'Arre M. Stewart and Jennifer Markovsky.