LONDON (Sputnik) – According to the Thursday nation-wide survey, 57 percent of Londoners say the air campaign makes them feel "less safe," with 61 percent of London residents saying they oppose the strikes.
Overall, 46 percent of British residents oppose the UK airstrikes against ISIL (known as Daesh in the Arab world) in Syria. According to the poll, opposition is stronger in the 18-34 age group (56 percent against the strikes) and among women (54 percent against).
Of 2,073 Britons surveyed, 43 percent said the UK airstrikes in Syria make them feel less safe, while 47 percent said military intervention in Syria would be bad for people in Britain.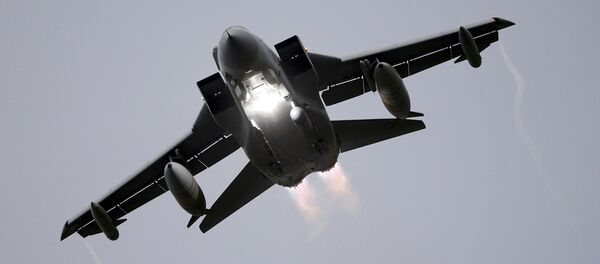 2 December 2015, 13:53 GMT
An amendment blocking the launch of UK airstrikes in Syria was defeated in the British parliament on Wednesday. Later, 397 British lawmakers approved the extension of anti-Daesh airstrikes to Syria.
The United Kingdom has been conducting airstrikes against Daesh positions in Iraq as part of a US-led coalition since September 2014.
According to the UK Ministry of Defence, Royal Air Force (RAF) Tornados conducted the first airstrikes against Daesh in Syria early on Thursday, just hours after the parliament approved the extension of the campaign.
Russia has been carrying out a separate aerial campaign against the extremist group, prohibited in Russia and a range of other countries, since September 30, at the request of Syrian President Bashar Assad.
The US-led campaign is being conducted without the approval of Damascus or the United Nations.