Alexander Novak confirmed that at present all intergovernmental negotiations between the two countries over the Turkish Stream pipeline construction are suspended. 
"At present all negotiations [on the Turkish Stream gas pipeline] have been suspended, especially considering the fact that the activity of the intergovernmental commission on trade and economic cooperation were also suspended by the government decree. As the commission's activity was suspended, the work on the Turkish Stream agreement was suspended as well," Novak told the press.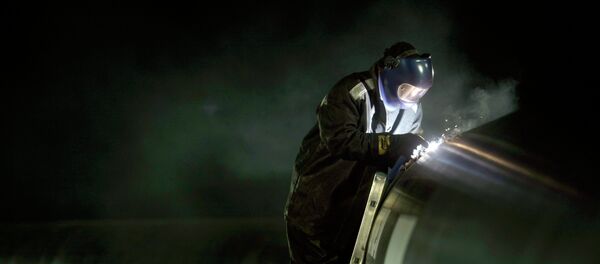 1 December 2015, 20:31 GMT
Earlier Gazprom chief executive Alexei Miller said Turkey could directly appeal to Russia for negotiations over the proposed Turkish Stream natural gas pipeline —  if the project is a priority for Ankara. 
"Turkey must first and foremost contact [Russia] if it is interested in the project. At the moment, Turkey has not come to us with such a proposal," Miller told reporters.
He added that Moscow would consider a request if one is offered by Ankara.
On Tuesday, a source familiar with the situation told RIA Novosti that talks on the Turkish Stream were suspended after a November 24 incident in which a Turkish fighter jet shot down a Russian Su-24 bomber in Syria.
Moscow imposed economic measures against Ankara after the attack, citing the growing terrorist threat originating in Turkey.
The measures did not target construction projects that had been agreed to before the restrictions came into force, but the work of the Russian-Turkish Commission on Trade and Economic Cooperation – the venue for talks on future joint projects – was suspended.
The Turkish Stream gas pipeline, with an annual capacity of 63 billion cubic meters, was announced in December 2014. The pipeline was expected to run below the Black Sea from Russia to Turkey and continue to a hub on the Turkish-Greek border, from where gas could be transferred to Southern Europe.