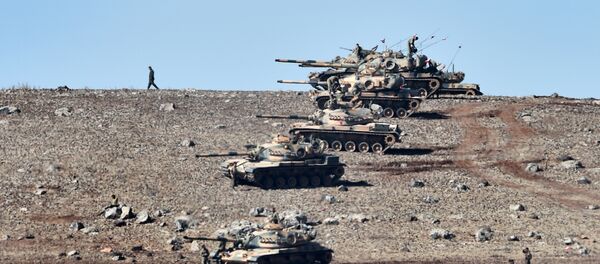 5 December 2015, 10:18 GMT
CAIRO (Sputnik) – On Friday, various media reports said that about 130 Turkish military personnel had been deployed to the Mosul area in Iraq allegedly to provide training to Kurdish Peshmerga militia fighting against the Islamic State jihadist group (IS, or Daesh in the Arab world).
"Iraq is waiting for an explanation from Turkey. Even if the troops were deployed to help and support the forces fighting against Daesh, why was it done without prior coordination with Iraq?" he said.
The spokesman added that Iraq adheres to the principles of peaceful co-operation and good neighborly relations, so its answer to the Turkish move would follow only through diplomatic channels.
"Iraqi measures will follow through the diplomatic channel. I do not think that Iraq will opt for escalation of the situation," Nuri said.