"The Su-24 tragedy, as well as the invasion of Turkish troops in Iraq are linked. The Turkish regime is trying to escalate tensions in the region to prevent a counterterrorism coalition from being formed," Klintsevich observed.
A so-called "war of all against all" will put an end to efforts aimed at bringing together major stakeholders, interested in defeating extremists. This is exactly what the country, which is engaged in illegal business with Daesh, is trying to achieve in the Middle East.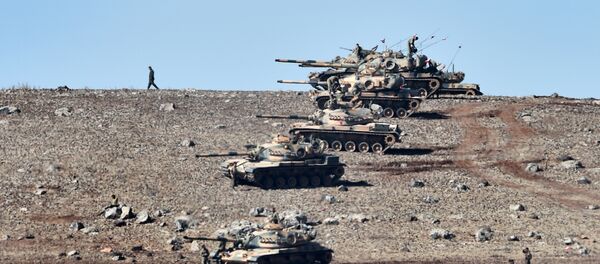 5 December 2015, 10:18 GMT
"We've already said this: all masks have been thrown down, we have to be ready for any provocation," Klintsevich added.
The remarks come following reports that Turkey sent 130 soldiers to northern Iraq to allegedly train local Kurdish forces. The move was described by Baghdad authorities as "a serious violation of Iraqi sovereignty."
Iraqi Prime Minister Haider Abadi urged Ankara to immediately pull out its forces, including tanks and artillery, from the Nineveh province. Iraqi President Fuad Masum referred to the incident as a violation of international law and urged Ankara to refrain from similar activities in the future, Alsumaria TV Channel reported.
Iraqis more upset at Turkish presence in Ninewa than they were when Mosul fell to ISIS.

— Rasha Al Aqeedi (@RashaAlAqeedi) 5 декабря 2015