MOSCOW (Sputnik) — World Chess Federation (FIDE) President Kirsan Ilyumzhinov, sanctioned by the United States over allegedly supporting the Syrian government financially, said Sunday he would sue the US Treasury Department for defamation.
"On Friday I am launching my actions against the US Finance Ministry. As soon as they make their claims about me officially, I will go to the Washington district court where the US Finance Ministry is registered with a defamation lawsuit," Ilyumzhinov told R-Sport.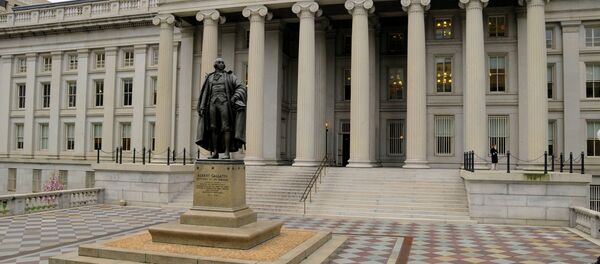 4 December 2015, 19:55 GMT
He also said that he had transferred his powers in the organization's financial and economic activities in the United States to its deputy chief George Makropoulos.
"In the morning I made an offer to the members of the presidential council, shocking them, that I wanted to temporarily suspend my authorities in the financial and economic sphere on the US territory and with US citizens, and to transfer those powers to first deputy president George Makropoulos," Ilyumzhinov told R-Sport.
Makropoulos, in turn, said that there would be no changes in the organization due to the incident.