The MP, who is a member of Prime Minister David Cameron's Conservative party and a front runner to replace the PM as the next leader of Britain, said that although the West and Russia differ in their views over the long-term political solution in Syria, destroying the "evil death cult" should be a top priority.
@krishgm i agree that we should be working with Putin & Assad. Everyone wants ISIS destroyed so it makes sense to have a united front.

— Dynamo Delboy (@DelboyCBR6) December 6, 2015​
"Innocent lives are being lost now: tens of thousands of people butchered just because they are women, or disabled, or gay, or because they belong to the wrong strand of Islam," Johnson wrote in UK newspaper the Telegraph.
"I don't want to have them on my conscience, and I don't want these sickos from Daesh/Islamic State of Iraq and the Levant to continue to exult in their so-called caliphate, and to be allowed indefinitely to promote their terrorist campaigns."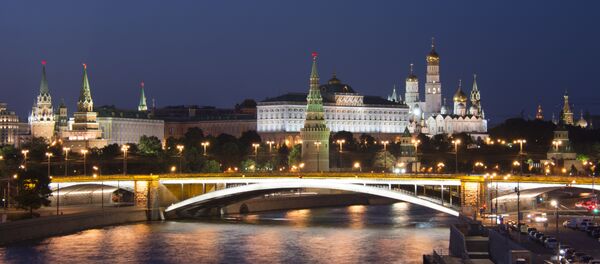 7 December 2015, 07:44 GMT
Johnson said that in order to defeat Daesh, the West needed to rely on solid ground forces, and suggested they should cooperate with Bashar al-Assad's Syrian army.
"We need someone to provide the boots on the ground; and given that we are not going to be providing British ground forces — and the French and the Americans are just as reluctant — we cannot afford to be picky about our allies," Mr Johnson said, adding that he was skeptical of UK government claims that there were 70,000 anti-Assad, anti-extremist fighters on the ground in Syria.
"We have the estimated 70,000 of the Free Syrian Army (and many other groups and grouplets); but those numbers may be exaggerated, and they may include some jihadists who are not ideologically very different from al-Qaeda.
"Who else is there? The answer is obvious. There is Assad, and his army; and the recent signs are that they are making some progress. Thanks at least partly to Russian airstrikes, it looks as if the regime is taking back large parts of Homs."
Johnson's intervention is the latest in calls for the West to coordinate their attacks with Russian and Syrian government forces in the country.
The dangers of the separate anti-Daesh campaigns was highlighted when on Monday Damascus accused the US-led international coalition of killing at least three Syrian soldiers in an airstrike in the country's east.
If confirmed, it will be the first time the international coalition has killed Syrian forces.