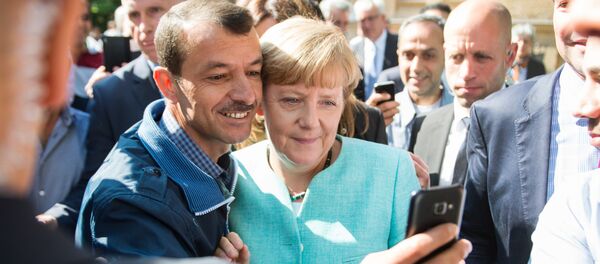 7 December 2015, 11:00 GMT
MOSCOW (Sputnik) — The man has been identified as a Moroccan asylum seeker by police in the German state of Lower Saxony. No evidence linking the suspect to Daesh terrorist group, also known as ISIL or the Islamic State, has been found.
Police were alerted to the presence of a suspicious commuter by a ticket collector. When police officers attempted to establish his identity, the man attacked them, trying to bite the law enforcers, according to a police account of the incident.
The 23-year-old continued to attack the officers and tried to grab a police pistol even after he was put in handcuffs with the help of a third police officer. All that time, he shouted "Allahu Akhbar" and "Daesh".
Eventually, officers used pepper spray to subdue the attacker. One officer received a knee injury and another was bitten in the forearm and had a rib cracked. The third officer sprained his hand.