In a statement issued to the press by his campaign, Trump called for "a total… shutdown of Muslims entering the US until our country's representatives can figure out what is going on."
The statement said polling data shows that "large segments of the Muslim population" hate Americans, which creates a risk for more attacks by extremists on US soil.
"Without looking at the various polling data, it is obvious to anybody the hatred is beyond comprehension," Trump said in the statement.
"Where this hatred comes from and why we will have to determine. Until we are able to determine and understand this problem and the dangerous threat it poses, our country cannot be the victims of horrendous attacks by people that believe only in Jihad, and have no sense of reason or respect for human life."
In response to Trump's statement, an official with the Council on American-Islamic Relations said: "We're entering into the realm of the fascist now."
Trump's comments come after the FBI said both assailants who fatally shot 14 people last week in an attack in San Bernadino, California, had been "radicalized."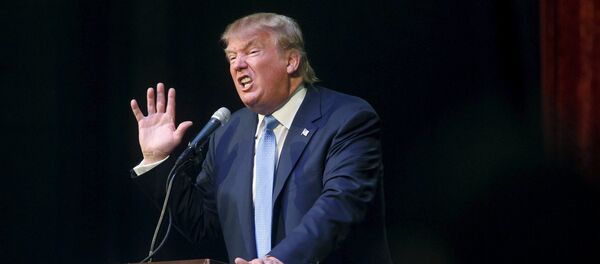 7 December 2015, 15:52 GMT
Just a day earlier, on Sunday, President Barack Obama, in a national address delivered from the Oval Office, urged Americans not to turn against Muslims in the wake of the terrorist attacks in California.
Hours before the president's address, Trump criticized Obama and his administration for for their unwillingness to say the words "radical Islam" when talking about terrorism. The GOP front-runner also defended his call to track Muslims in the United States.
"We are having a problem with the radicals in the Muslim group. Let's not kid ourselves. You can say it, or you don't have to say it," Trump said on CBS' "Face the Nation."
"But I've been saying it loud and strong. So if you have people coming out of mosques with hatred and with death in their eyes and on their minds, we're going to have to do something."
Trump last month seemed to indicate that he was in favor of implementing a database for tracking Muslims in America. He later backed away from the idea after drawing harsh criticism from Democrats and Republicans alike.