Iraqis are also boycotting the flights of the Ankara's national flag carrier Turkish Airlines.
Protesters demand the immediate pullout of Turkish troops from Iraq. On December 4, Turkey violated Iraq's sovereignty by deploying about 150 soldiers and 25 tanks to a base in the Iraqi Nineveh province, without Baghdad's approval.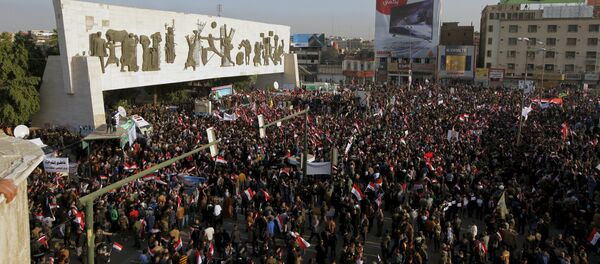 12 December 2015, 14:07 GMT
According to Ankara, the aim of the deployment was to provide security to Turkish soldiers deployed earlier to train Kurdish militia who are fighting Daesh, also known as the Islamic State or ISIL, a group outlawed in a number of countries, including Russia.
Iraq has rejected the claims, stressing that the Turkish military presence had not been requested.
Furthermore, another demonstration took place in central Baghdad on Saturday. Similar to the protesters in Babil, people in Baghdad also demanded the withdrawal of Turkish forces out of Iraq.