The New York talks had previously been up in the air, as it was unclear whether Washington would meet Moscow's preconditions over the role of Syrian President Bashar al-Assad and the list of participating opposition groups.
During talks in Moscow between Lavrov, Kerry, and Russian President Vladimir Putin, Kerry said that the two nations could work together effectively on combating terrorism in Syria. The meeting was scheduled to last only one hour, but lasted for more than three.
​Kerry also announced that Russia and the US had discussed exchanging data on the locations of anti-terrorist operations, and that Washington is not pursuing a policy of isolating Russia.
"Today we focused not on our differences, and not on what can be done immediately in terms of Assad, but we focused on the political process, in the frame of which Syrians themselves can decide the future of their country," Kerry said, according to RIA Novosti.
After talks with Putin and Lavrov, Kerry also agreed that neither al-Nusra Front nor Daesh, also known as ISIL/the Islamic State, will be part of the Syrian opposition talks.
"Islamic State, Nusra Front and other terrorist groups pose common threat to us, and we reaffirmed today our mutual determination to root out this evil," Lavrov said.
Lavrov also said that both parties agreed that the Vienna Accords on Syria must be backed a United Nations Security Council resolution, adding that Washington and Moscow have agreed on the next steps for effectively coordinating anti-terror efforts.
"We met today not as Russia and the US alone, behind the backs of the other participants in the support group for Syria," Lavrov said according to RIA Novosti. "We met as co-chairs of the group, which do not do anything in secret and do not keep anything from the other members of that group, which was created as a result of the Vienna process."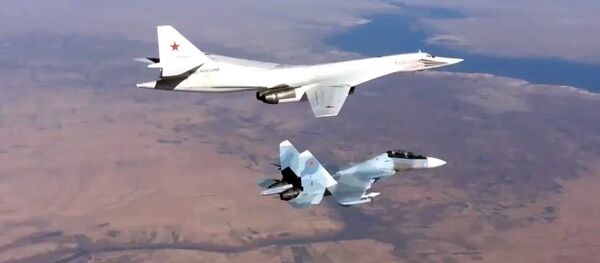 15 December 2015, 17:28 GMT
"We approved agreements that have been reached between the militaries of the Russian Federation and the United States, and agreements that apply to the US-led coalition, which works against ISIL," Lavrov added. "And in practical terms we agreed on some further steps that will help make our parallel work more coordinated and more effective."
The meeting between Syria's opposition groups in Riyadh, Saudi Arabia seeks to establish a agreement by which the opposition can enter negotiations with the Syrian government.
"It does not represent all opposition groups, but this, again, was one step in the process, which is coordinated by the United Nations," Lavrov said.
Russia favors a collective, all-inclusive format of an international anti-terrorist coalition in Syria, which has been formed at Vienna talks and approved by the UN Security Council, Lavrov added.
"We certainly agree that everybody must contribute to the fight against terrorism and to the political process [in Syria]," Lavrov said at a joint press conference with Kerry after talks.
"We prefer doing it in a collective format, which has been formed in Vienna, and which includes all key players that influence one way or another on warring sides in Syria; the format that was approved by the UN Security Council in a recent resolution," Lavrov said, adding that this format covers the preparation of a list of terrorist groups in Syria.
Lavrov also pointed out that the UN Secretariat was unable to provide Russia with any proof that its Syrian operations have had a negative impact on the humanitarian situation there.
He referred to a recent UN report alleging the Russian operation was killing civilians in Syria.
"The statements contained no references to factual information. We requested the UN Secretariat to provide such facts but they failed to do so and we asked the Secretariat to be more careful about their statements in the future and give assessments based on precise data with references to sources," Lavrov said.
"Since then we have heard no more accusations against us," the Russian foreign minister added.