Mark Oberholtzer, the owner of Mark-1 Plumbing of Texas City, sold the pickup in October 2013 to a Ford dealership in Houston. Last year, the vehicle appeared in a photograph with an Islamic militant manning an anti-aircraft gun mounted on the truck's bed.
Clearly visible in the photo, on the door of the truck, is the name and phone number of Oberholtzer's business.
He is now suing the dealership for $1 million, saying the backlash has forced him to carry a gun for protection. He said he was interrogated by the Department of Homeland security and the FBI.
The suit accuses the dealership of failing to follow through on its promise to remove the company label before sending it to an auction house. It was then sold it to a local used-car dealer before entering Turkey in December 2013.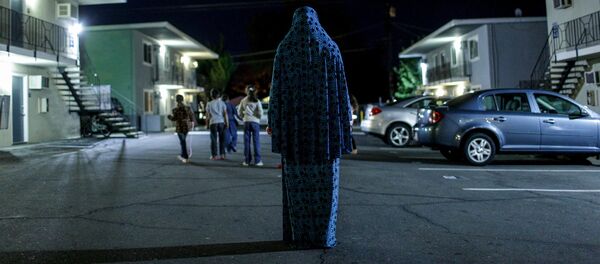 10 December 2015, 01:23 GMT
The photo was tweeted a year later by a group called the Ansar al-Deen front and describes the truck as being used against the Syrian government in Aleppo, the lawsuit said.
"By the end of the day, Mark-1's office, Mark-1's business phone, and Mark's personal cell had received over 1,000 phone calls from around the nation," said the lawsuit.
The lawsuit said the largely harassing calls contained threats of violence, property damage, injury and even death. Some callers sang in Arabic and others yelled obscenities at whoever answered the telephone, it said.
A spokesman for the parent company AutoNation on Monday told Reuters the situation was "very unfortunate."
"We feel it is very unfortunate that the customer is going through this," the AutoNation spokesman said. "This vehicle came to us, and was sent to the auction and the markings should have come off at the auction. That did not happen. We feel this is unfortunate."