WASHINGTON (Sputnik) — "The Saudis' coalition likely will pit Sunnis versus Shia," Independent Institute Center on Peace and Liberty Director Ivan Eland told Sputnik. "Obviously, the Shia-dominated Iraq government thinks so, since it refused to join."
The coalition was so large, unwieldy and diffuse that its members were unlikely to agree on effective initiatives that they could all implement, Eland cautioned.
"The problem with fighting terrorism is that each country seems to have a different idea about what groups fall under that category. Such coalitions may actually impede combat power during combat because of the usual coordination problems among countries," Eland pointed out.
The Saudis appear to have been guided by concerns about their international standing and prestige in creating the new coalition rather than trying to take practical steps to roll back the power and attraction of the Islamic State and similar groups, Eland argued.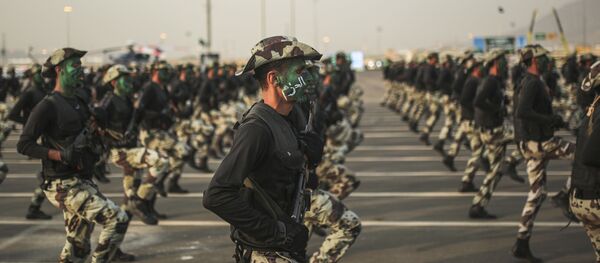 16 December 2015, 21:27 GMT
"Coalitions are formed mainly for political purposes," he noted.
The Saudi initiative could help states threatened by terrorism and other internally disruptive processes to reach out to each more easily for mutual support in a region that American policies had increasingly destabilized, US author and terrorist financing expert Dan Lazare told Sputnik.
"As the chaos in the region grows, power vacuums are opening up all over the place. This is fuelling old imperial ambitions," Lazare noted.
Iran is not joining the coalition and neither is Iraq, which has a Shia-led government and which has suffered a land grab in the oil-rich Mosul area from its powerful neighbour and US ally — Turkey.
Turkish President Recep Tayyip Erdogan "is thus exerting his authority in northern Syria and doing his best to keep Russia out," Lazare explained.
The new Saudi initiative and Erdogan's aggression in the Mosul area against Iraq were both rooted in the breakdown of state security and of international law in the Middle East as a direct result of US policies of nation-building and claiming to spread democracy, Lazare explained.
"US policies have resulted in a free-for-all from the Levant to the Persian Gulf and the Black Sea. The battle is intensifying," he said.
Wajahat Masood, a Pakistan political analyst and human rights activist told Sputnik previously that the new Saudi initiative may reflect fears in Riyadh that the extremism and violence the Saudis have funded and exported around the world in recent decades may now be coming home to threaten them.