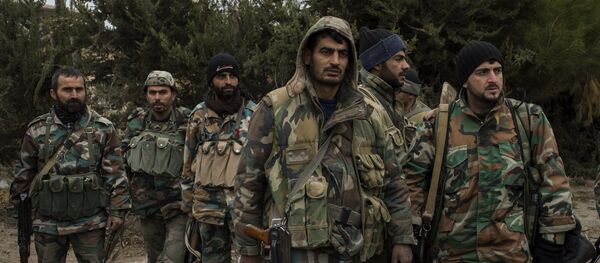 19 December 2015, 05:54 GMT
The Syrian Army backed by popular militia forces liberated the town of Khan Tuman and its neighborhoods from terrorists, Syrian news agency SANA reported. The terrorists sustained numerous losses.
According to the report, the small town is located in the southern neighborhood of Aleppo. It is surrounded by agricultural areas which were also cleaned of militants.
"During the operation, the Syrian Army took full control of the village of Karasy and the nearby warehouse area. Then, an offensive on the town of Khan Tuman was launched," a military source told SANA.

18 December 2015, 05:51 GMT
According to the source, terrorists of the al-Nusra Front in the area sustained heavy losses. Their ammunition was destroyed.
Syrian has been engulfed in an armed conflict since 2011. The government forces have been fighting militant formations of different terrorist groups, including Daesh (also known as ISIL) and the al-Nusra Front.
On September 30, Russian launched airstrikes against Daesh and al-Nusra positions in Syria, at the request from President Bashar Assad. Since the start of the operation, jets of the Russian Aerospace Forces supported by warships of the Caspian Flotilla and the Rostov-on-Don submarine have destroyed several hundreds of militants and thousands of terrorists' facilities.