MOSCOW (Sputnik) – ODS is designed to protect planes and helicopters from being hit by missiles, air defense and anti-aircraft artillery. The defense system is currently installed on Ka-52, Mi-28 and Mi-26 helicopters.
"The contract is there and we are working within its framework. Deliveries are about to begin. All our plants are now fulfilling the partnership order," first deputy director Igor Nasenkov told reporters.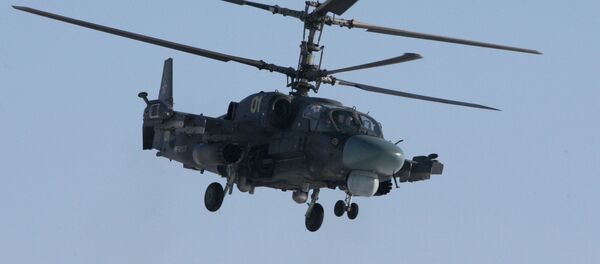 31 August 2015, 10:42 GMT
Nasenkov specified KRET was not the "contract holder" in the deal.
ODS includes a control device, a radar warning receiver station, laser and missile attack warning stations, an air dispenser for aircraft consumables, settings for active radio-interference stations, as well as a laser optical-electronic suppression station.
The system allows automatic detection of a rocket launching in the vicinity and initiates passive and active interference in infra-red and radio frequencies, to disrupt a rocket's targeting system.
The ODS system can be located inside an airframe fuselage or as an external unit on helicopters and fixed wing aircraft.
KRET, Russia's largest radio-electronics company, was founded in 2009. The umbrella company, part of Russia's state technologies corporation Rostec, unites over 95 individual business entities.