"In three days, starting December 25, [Russian warplanes] conducted 164 sorties, hitting 556 terrorist targets in the provinces of Aleppo, Idlib, Latakia, Hama, Homs, Damascus, Deir ez-Zor and Raqqa," chief of the Main Operational Directorate of the General Staff of the Russian Armed Forces Sergei Rudskoy told reporters.
Russian jets have intensified airstrikes to aid the anti-terrorist offensive of the Syrian army and patriotic opposition forces, he stated.
Lt.-Gen. Sergei Rudkoy said that Russian warplanes assist the Syrian opposition forces in an offensive on the de facto Daesh capital of Raqqa.
"With the support of the Russian aviation group, the Syrian Democratic Forces' units… are conducting an offensive on the Daesh capital, the city of Raqqa."
The Syrian Democratic Forces are an alliance between Kurdish, Arab, Assyrian and other militias that was founded in October 2015.
Moreover, Russian aviation has conducted 17 airstrikes to assist Syrian opposition forces fighting near the ancient city of Palmyra, the Russian general said.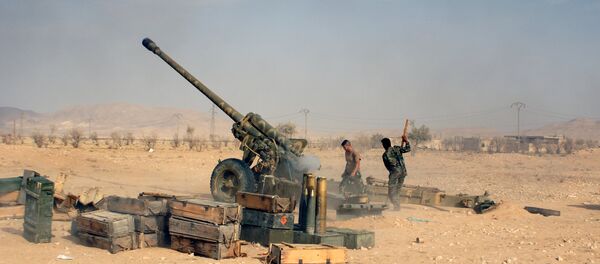 28 December 2015, 11:16 GMT
The Syrian government forces have continued their offensive in all directions, Sergei Rudkoy said, adding that the army "has achieved major success in the Aleppo, Latakia and on the outskirts of Damascus."
The Syrian army established control over a strategically important dam over the Euphrates River, Rudskoy said.
"As a result of this offensive about 20 populated areas were liberated from extremists. Control was established over a strategically important object - the dam over the Euphrates River in Jerf el Ahmar."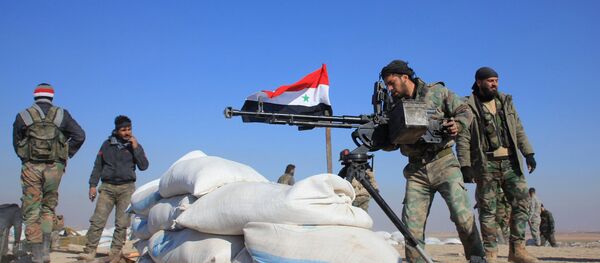 28 December 2015, 06:14 GMT
According to Rudskoy, Russia's air campaign has helped the Syrian army to establish control over part of the country's border with Turkey.
He added that the Syrian government forces continue to advance near Eastern Ghouta.
The Syrian army also advanced in the area near the Kweiris airbase in the Aleppo province, liberating "two populated areas to the north of the airport and a tactically important height."
The strategy of the Russian Defense Ministry aimed to destroy Daesh financing and engage patriotic Syrian opposition in the fight against terrorism has already been yielding results, Rudskoy said.
"The Russian Defense Ministry intends to continue to work to bring together all the forces involved in the liberation of Syria from international terrorists."