The tankers were moving on the Northern road of Palmyra in central Homs. The Army's intelligence units located them and called for heavy artillery fire on the convoy.
"The artillery and rocket-launching units of the army later shelled the convoy and destroyed most of the oil tankers," military sources told FARS News.
The guards of the motorcade were also killed and wounded in the shelling, according to the sources.
Large clouds of smoke could be seen from long distance after the tankers in the convoy were attacked.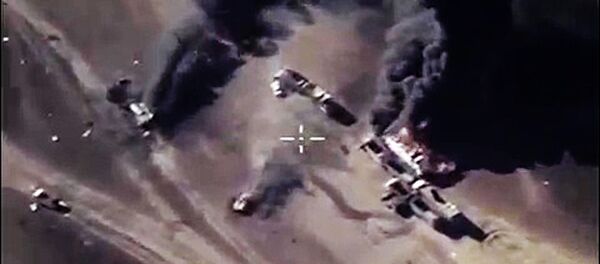 26 December 2015, 13:38 GMT
The Syrian Army has targeted most of Daesh's oil, military and supplying convoys near Palmyra in recent weeks.
Government forces and their allies backed by Russian and Syrian warplanes have been attacking terrorists' defense positions and other facilities near Palmyra to open the way for regaining control of the city with the lowest number of casualties.
The Syrian Army aims to push back Daesh from the province of Homs, especially from Palmyra, an ancient city with many historic monuments.
On November 25, aircraft of the Syrian Air Force launched massive airstrikes against Daesh strongholds in the western part of Palmyra.
Daesh (Islamic State) captured Palmyra in May and has since partially destroyed world-famous ruins. The terrorist group has also used the site for mass executions.
Islamic State