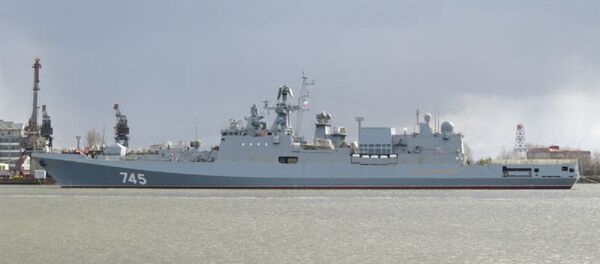 29 October 2015, 13:01 GMT
KALININGRAD (Sputnik) — The Russia's Admiral Grigorovich class (Project 11356) frigate, built at the Kaliningrad-based Yantar Shipyard, have successfully carried out the final stage of state trials in the Barents Sea, the shipyard's spokesman Sergei Mikhailov said Wednesday.
"The second and the final stage of state trials is over. The vessel is expected to return to Baltiysk in the first ten days of January…Raising the flag is expected to take place in February," Mikhailov told RIA Novosti.
The Project 11356 frigates, displacing 3,850 tons, are designed for anti-ship and anti-submarine warfare as well as for air defense missions, operating both independently or as part of convoys and naval task forces.
The Admiral Grigorovich frigate will be the first in a series of six frigates of the Project 11356 being built for the Black Sea Fleet to join the Russian Navy.