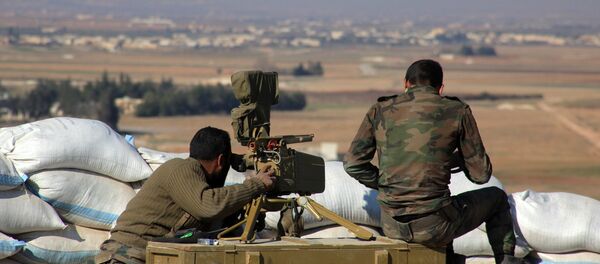 29 December 2015, 06:28 GMT
According to a military spokesman, the army inflicted heavy losses on militant personnel and equipment. The offensive forced many militants to flee the liberated areas.
The army took control over Tal al-Hash and the 82nd brigade camp, near the town of Sheikh Miskeen, 22 km north of Daraa city in Daraa province. On Monday, the Syrian forces' operation resulted in establishing control over several points in Sheikh Miskeen and its neighborhoods. Most of the terrorists in the city were from al-Nusra Front and the Ahrar al-Cham Islamic Movement terrorist group, SANA reported.
Army units also gained control over a number of farms and parts of the road connecting Marj al-Sultan village and the town of al-Nashabya in the Damascus countryside. According to military sources, a number of terrorists were killed in the operation.
In the eastern province of Deir ez-Zor, the Syrian Air Forces destroyed Daesh's hotbeds and vehicles equipped with heavy machineguns. They also targeted terrorists' hideouts and routes in the village of al-Jafrah, southeast of Deir ez-Zor.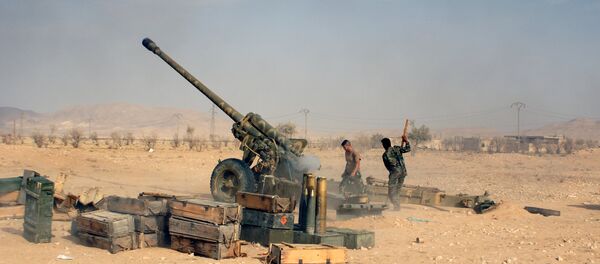 28 December 2015, 11:16 GMT
In the coastal province of Latakia, the army along with the National Defense Forces established control over the village of Burj al-Kasab and Height 1044.
In the northern part of the country, Syrian forces targeted Daesh positions and groups of militants in the eastern countryside of Aleppo. A number of terrorists and their positions were destroyed in the attack.
One of the army units destroyed a position of the al-Nusra Front and eliminated all militants in the town of al-Dana in Idleb.

21 December 2015, 11:37 GMT
In the province of Homs, Syrian forces backed by the National Defense Forces established control over the mountains of Mahin al-Kabier and Mahin al-Saghir, Mahin town, and al-Hadath and Hawarein villages, having destroyed terrorists in the areas. Airstrikes also destroyed Daesh vehicles, killed a number of its militants, and destroyed their weapons and equipment. The air forces also targeted al-Nusra Front and other terrorist groups in Tair Ma'lah, 7 km north of the city of Homs.
Finally, army units destroyed eight militant vehicles equipped with machineguns and killed 21 terrorists in the northern countryside of Hama. The air forces attacked terrorists' positions in the town of Morek, 30 km north of Hama. In the countryside of Salamiyeh, airstrikes inflicted heavy losses on Daesh militants. Military sources told SANA that at least seven militants were killed in airstrikes against al-Nusra Front in al-Latamina, 35 km north of Hama. The army in cooperation with the popular forces also established control over Height 1112 in the northwestern countryside of the province.