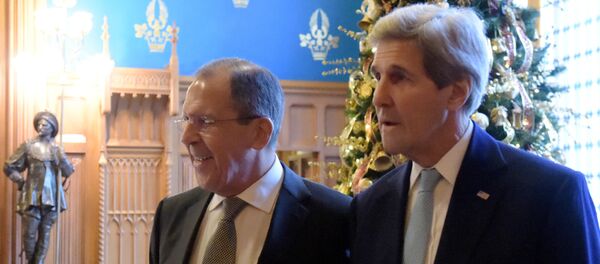 17 December 2015, 15:40 GMT
This week US Secretary of State John Kerry reportedly phoned Russia's Foreign Minister Sergei Lavrov to firm up the forthcoming peace negotiations supposedly aimed at bringing an end to the Syrian conflict.
But, according to a Reuters report, Kerry's purpose of contacting Lavrov appeared to be less concerned with finding peace and more to do with protecting terrorist outfits in Syria.
The Syrian peace talks were given approval by the United Nations last month and are scheduled to begin on January 25 in Geneva. Syria's government of President Bashar al-Assad recently confirmed that it would be participating in the process, giving a boost to hopes that the five-year war might come to an end.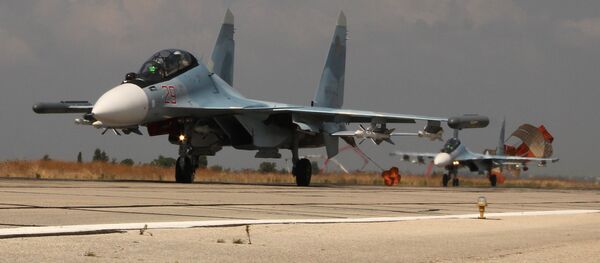 1 January 2016, 10:23 GMT
For the past three months, Russia has conducted a ferocious aerial campaign in Syria, which has delivered devastating blows to the various illegally armed anti-government militia, including al-Qaeda-linked networks of so-called Islamic State (ISIS/ISIL, Daesh in Arabic) and al Nusra Front.
The latter two are but the most well-known of the radical Islamist terror groups. There are reckoned to be hundreds of other such brigades guided by the same extremist, many would say perverse, views of Islam. Anyone who does not conform to the twisted ideology is liable for punishment by death, including other Muslims, as well as Christians, Druze and Yazidis.
Such barbaric, callous gun-wielding jihadists are ideal proxies for foreign powers who want to terrorize a society for the purpose of destabilizing its government. In short, regime change.
The problem for the forthcoming Syrian peace talks – and this may actually scupper the talks – is finding common agreement on which groups constitute legitimate opposition to the Assad government.
Strangely, or perhaps not, Washington and Moscow – the two main diplomatic forces behind the Geneva talks – have not yet agreed on an acceptable list of opposition factions. That will, in turn, complicate which groups are eligible for a planned ceasefire. And without a workable ceasefire, there is little chance that the talks will achieve anything.
For Moscow, it is straightforward.
Foreign mercenaries are not eligible and those that have committed heinous crimes against humanity are also excluded. Furthermore, opposition groups that demand the ouster of the Assad government are non-starters. Lavrov this week reiterated that the political future of Syria is a sovereign matter for the people of Syria to decide through elections.
Russia has also a much more realistic understanding of the nature of the Syrian conflict. Its view of all illegally armed groups encompasses more than just the two notorious al-Qaeda franchises of Daesh and Nusra. Two other groups that qualify as terrorist are Jaish al-Islam (Army of Islam) and Ahrar al-Shams. Both of these outfits have a revolving-door relationship with Daesh and Nusra, by sharing fighters, weapons and funding sources. Saudi Arabia and Qatar – among the oil-rich Gulf states – have openly bankrolled both Jaish al-Islam and Ahrar al-Shams.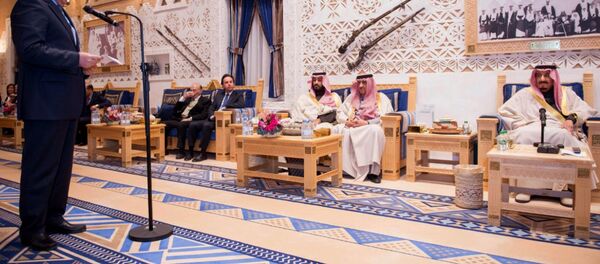 14 December 2015, 07:30 GMT
When Saudi Arabia convened an "opposition summit" in Riyadh last month the objective was to find a common line-up of negotiating groups to participate in the Geneva dialogue. Attending the Saudi summit were delegates from Jaish al-Islam and Ahrar al-Shams. Both groups intend to be part of the Syrian political opposition facing the Assad government.
Yet both groups have carried out countless atrocities during the Syrian conflict, including executions and no-warning car bombs in civilian areas. Jaish al-Islam gained further notoriety in November last year when it was reported, even by Western media, that the group was holding civilian hostages in cages as human shields in its stronghold of East Ghouta near the capital, Damascus.
Nevertheless, Washington endorsed the Saudi summit involving these terror groups as a welcome step for the "peace process" in Syria.
On December 25, a Russian air strike killed the commander of Jaish al-Islam, Zahran Alloush, along with several other senior cadres, while they were holding a meeting in East Ghouta.
Three days later, America's top diplomat John Kerry phoned Sergei Lavrov to complain about the direct hit against the Jaish al-Islam leadership.
According to Reuters: "The US State Department said the killing [of Alloush] had complicated efforts to achieve a political settlement, a point it said US Secretary of State John Kerry made to Russian Foreign Minister Sergei Lavrov in a phone call on Monday [December 28]."
So, Kerry is basically telling Russia to lay off known terrorist groups – groups that have shared American weaponry with Daesh and Nusra – in order to give "peace a chance" in Syria. This flawed logic is consistent with repeated demands from Washington that Moscow must curtail its military operations in Syria to exclusively target Daesh.
Even though the illegally armed militia – or terrorists – in Syria are multifarious, Washington and its NATO allies persist in the risible pretense that the only terror group worthy of combatting is IS (also known as ISIL, ISIS or Daesh). Even at that, the US-led "anti-terror" coalition, including Britain and France, has shown pathetic results in combatting IS despite a year and half of bombing Syria (illegally) for that stated purpose.
Washington and its NATO allies have repeatedly refused to share any information with Russia on the location of terror groups in Syria. On December 26, Pentagon spokeswoman Lt Col Michelle Baldanza ruled out any cooperation with Russia, telling Sputnik: "We are not going to cooperate with Russia on Syria until they change their strategy of supporting Assad and instead focus on ISIL."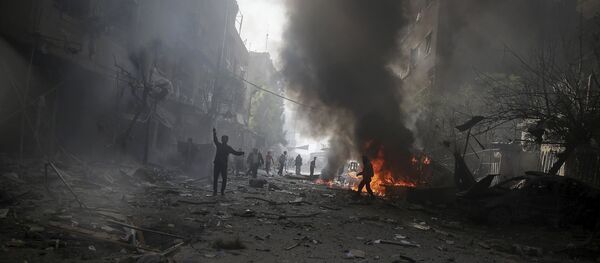 31 December 2015, 09:03 GMT
This is what the "peace process" in Syria is really all about for Washington and its allies. It is not about finding a genuine peaceful solution. It is all about achieving regime change by politics, because regime change by proxy war has failed – thanks to Russia's military intervention.
That's what Kerry's phone call to Lavrov earlier this week let slip. Kerry is evidently afraid that Russia's legitimate campaign to eradicate terror groups that have no place at the negotiating table will end up jeopardizing the cobbled-together peace process whose purpose for Washington is regime change.
Washington's documented association with terror groups in Syria under the guise of supporting phantom "moderates" is testimony to its iniquitous, criminal agenda.
Wishing peace for Syria in the year ahead is, of course, a righteous, urgent aspiration. But let's be clear: peace does not come about from dealing with charlatans and sponsors of terrorism who deep down have no interest in peace, but who are only motivated by geopolitical ambitions.
There are ample grounds for peace talks in Syria among the government and patriotic opposition groups. For a successful negotiated settlement, what Syrians need is for foreign powers to stop interfering in their country and to stop supporting terrorist proxies.
Chief among those nefarious foreign powers is Washington along with NATO allies Britain and France, and client regimes in Saudi Arabia, Qatar and Turkey.
Here's to a peaceful New Year Mr Kerry. And it's really not complicated. You and your government just need to back off from unlawful interference in other sovereign countries.
The views expressed in this article are solely those of the author and do not necessarily reflect the official position of Sputnik.