The European Union in 2015 has failed in upholding three of its core principles, democracy, human rights and efficient governance, French economist Gerard-Francois Dumont wrote in Atlantico.
Failing to protect refugees and entering deals with Turkey to curb their flow dealt a blow to the EU's human rights mission, according to Dumont. At the same time, the union also stamped out democracy by having its unelected bureaucratic bodies make decisions instead of local institutions.
"Indeed, when there appears a risk of disagreement between the Council and the European Parliament on a draft regulation or directive, negotiations took  place behind closed doors to reach an agreed text," Dumont wrote.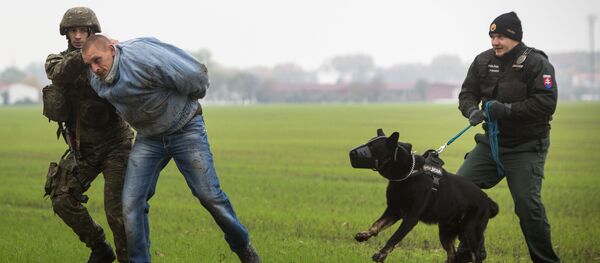 2 January 2016, 14:10 GMT
According to Dumont, this includes the French government's redrawing of regional boundaries; this it did without consulting local residents and governments. Another issue was the EU bureaucracy's violation of the EU treaty's principle of devolving power to the smallest effective institutions.
Creating the Frontex border guard agency was an example of the European Union violating that agreement, according to Dumont. The organization has created concerns for both southern Europe, where it could intrude in countries' territorial waters, and in eastern Europe, where the intrusion was seen as an invasion of the countries' sovereignty.
The new trend set by Frontex could lead to even more centralization and even an "imperialist" bent in the EU's policies if it succeeds, Dupont wrote. According to him, scaling back the Schengen free travel area would have been a more viable alternative to the transnational border guard agency.
Abandoning Human Rights

The EU's deals with Turkey, which has recently both invaded Iraq and engaged in a military operation against its own people in the town of Cizre is another concern when it comes to human rights, according to Dupont. Another issue is its treatment of refugees, who would be confined to certain member countries as part of the European Commission's allocation scheme.
"It is a kind of house arrest for people who have not committed any crime and that have not been the subject of a court decision. It consists of treating human beings as merchandise," Dupont wrote.
1 January 2016, 13:36 GMT
Dealing with Turkey and opening a new "chapter" in its EU accession while the country engages in operations against its Kurdish citizens and cracks down on journalists for questioning the government's smuggling of weapons into Syria is another issue, according to Dupont.
Pledging 3 billion euros to Turkey's curbing of migrants is also questionable, Dupont wrote. Turkey is essentially complicit in the smuggling of migrants into the EU by allowing criminal organizations to "work virtually in broad daylight" and collect what could be as much as 8 billion euros, according to Dupont.