WASHINGTON (Sputnik) – Officials expect the leak, estimated to have discharged over 150 million pounds of methane since it sprung in October 2015, to be fixed by spring 2016. Thousands of Southern California residents have been temporarily forced out of their homes in Porter Ranch as the Aliso Canyon facility was said to have emitted a quarter of the state's total methane emissions by late December.
"In terms of aggregate greenhouse gas emissions, it is far greater than the BP Deepwater Horizon disaster," EDF California Director Tim O'Conner told The Independent on Sunday.
BP was responsible for one of the worst environmental disasters in US history when its Deepwater Horizon oil rig exploded in April 2010, killing 11 people and spilling millions of gallons of oil into the Gulf of Mexico.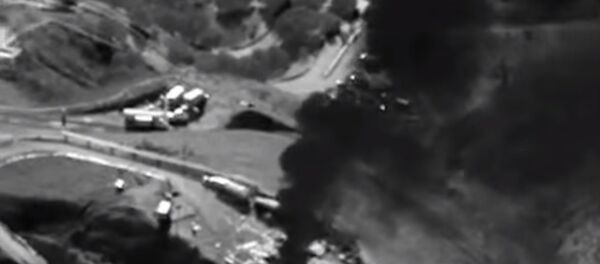 28 December 2015, 21:36 GMT
The company was forced to sell half of its offshore platforms and refineries to help meet the fine of $40 billion in clean-up and compensation costs.
A real-time tally maintained by the EDF on its website says the gas leak emits the equivalent of 6.5 million metric tons of carbon dioxide, nearly 730 million gallons of gasoline burned, or nearly $12 million worth of natural gas wasted.
Environmentalists are cited as saying the gas leak generates emissions equal to six coal-fired power stations, or 7 million cars. Fumes are said to be pouring into the Porter Ranch community, with residents reporting vomiting, headaches and nausea from methane exposure.
The Aliso Canyon facility's operator, the Southern California Gas Company, has said it may take it until March to drill two relief wells after a previous attempt to plug the leak had failed.