1 January 2016, 21:44 GMT
Kiev's determination to continue to spoil ties with Moscow may have a "disastrous impact" on Ukraine in the end,
Radio France International (RFI)
reported.
RFI recalled that 2016 began with another deterioration in relations between Kiev and Moscow, with Ukraine deciding to withdraw from the CIS, a free trade zone which was established among the former Soviet countries following the break up of the USSR 24 years ago.
The opening of a free trade zone between Ukraine and the European Union has become a "logical continuation of a hybrid war between two frenemies," RFI said, referring to Moscow and Kiev.
RFI also recalled that Russian President Vladimir Putin was quick to respond in kind by ordering a ban on the import of a whole array of products from Ukraine.
According to RFI, Putin introduced restrictive measures against Ukraine to "defend Russia's "interests and ensure economic security." His main concern was the threat of an uncontrolled influx of European goods from Ukraine.
This bilateral economic confrontation comes against the background of the "still bloody conflict" in eastern Ukraine's Donbass region, Crimea's blackouts and the upcoming litigation over Kiev's failure to pay off a three-billion-dollar debt to Russia. All these factors exacerbated further what are already tense ties between Kiev and Moscow.
Meanwhile, Kiev has repeatedly said that its strained relations with Russia, including those pertaining to bilateral energy spats, will not damage Ukraine's energy security.
Despite the bold statements by Ukrainian authorities, "no one has any doubt that [Russia's] protracted energy embargo will have a disastrous impact on Ukraine," RFI said.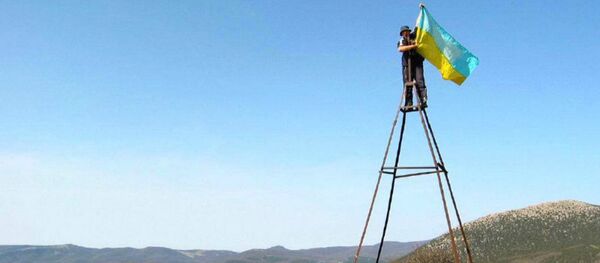 1 January 2016, 09:01 GMT
In December 2015, President Putin signed a decree suspending Russia's implementation of the Commonwealth of Independent States free trade deal with Ukraine effective as of January 1, 2016.
The move came amid concerns that the Russian market could be flooded with European goods as a result of the EU-Ukraine association deal.
The Russian Finance Ministry said, in turn, that Ukraine has missed the December 31 deadline to pay off its three-billion-dollar debt to Russia and is currently in default.