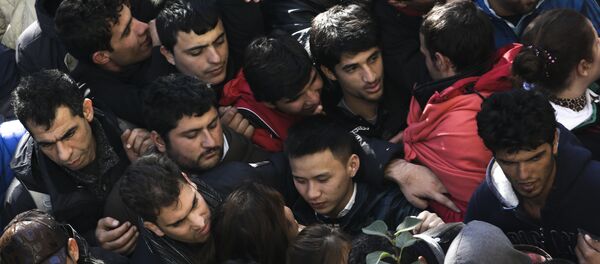 5 January 2016, 18:25 GMT
BERLIN (Sputnik) — The ministry said that the German authorities had registered 1.1 million asylum seekers by December 31, 2015, Der Tagesspiegel reported.
The ministry's calculations are based on data from Germany's EASY system, created for the initial registration and further distribution of refugees entering the country. However, double-counting cannot be excluded, the newspaper reported.
According to German Interior Minister Thomas de Maiziere, Syrian refugees account for 40 percent of the total number, with some 428,000 people from the war-torn country having entered Germany last year. According to the minister, the EASY system registered 154,000 and 122,000 migrants of Afghan and Iraqi origin, respectively.
De Maiziere said that some 60 percent of those who had entered Germany in 2014 came from EU member-states, including Romania, Poland and Bulgaria.
Germany has been one of the main destination for thousands of refugees and immigrants coming to Europe since the beginning of the last year. The number of arrivals topped one million in late 2015.