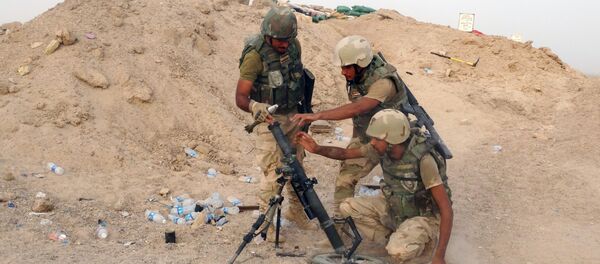 6 January 2016, 12:21 GMT
Some 12 al-Nusra terrorists were killed in clashes that erupted after Daesh militants attacked al-Nusra Front positions in the village of Hosh Hamad in the province of Daraa.
The recent advance by the Syrian Army across the country has increased strife among militant groups, according to FARS News.
Earlier it was reported that Ahrar al-Sham Emir and Shura Council member was killed by unidentified gunmen in the Syrian Province of Homs.
Abu Rated al-Homsi, a member of Ahrar al-Sham Shura Council and Homs Emir, was killed in Syria on Tuesday.
According to reports, unidentified gunmen opened fire at a car carrying al-Homsi, the "Emir" of the Islamic Movement of Ahrar al-Sham, and his wife in the village of al-Farhaniyah, near the town of Talbiseh in Homs. Al-Homsi and his wife were killed.
Ahrar al-Sham leaders have lost three senior commanders as a result of infighting in the recent weeks, according to intelligence sources.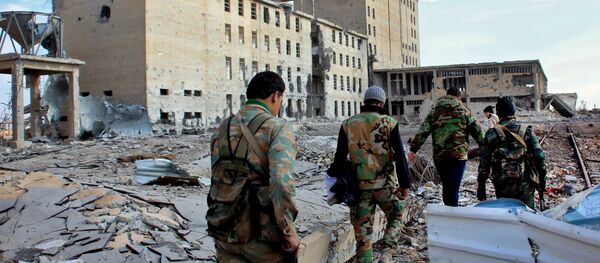 5 January 2016, 18:03 GMT
"Mohammad Abu Yihiya, one of the leaders of Ahrar al-Sham, and Abu Tamim another commander of the terrorist group in Jarjanaz town in Idlib province have been killed as a result of infightings," the sources told FARS News.
Meanwhile, terrorists acknowledged that the military commander of Ahrar al-Sham Abdul-Qader al-Dabaan had been killed.
Last week, it was reported that heavy battles broke out between Takfiri militants from Jeish al-Islam and Jeish Tahrir al-Sham groups in Damascus province as militants continued to lose positions in Syria.
Terrorists from Jeish al-Islam engaged in clashes with Jeish Tahrir al-Sham terrorists in Damascus countryside.