WASHINGTON (Sputnik) — Simsek proposed that rather than Turkey being "left out" of the TTIP, Ankara would renegotiate its EU customs union agreement, so prospective free trade deals between the EU and the United States "would apply to Turkey in a two-way track."
"We would like to upgrade our deal [customs union agreement] with EU and allow the United States and EU to dock Turkey in this new agreement," Simsek said of the TTIP at a Wednesday Turkish foreign policy conference.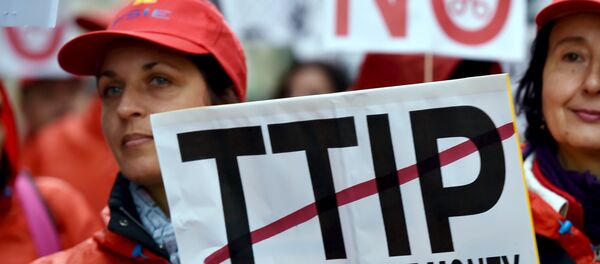 19 December 2015, 17:47 GMT
The TTIP free trade agreement would reduce barriers to trade in goods and services between Europe and its largest export market, the United States. Negotiations on the agreement have been ongoing between the the United States and Europe since 2013.
Despite a long path to EU accession, Turkey gave up on joining the European Union in 2013 after running into major opposition from a number of EU member states for economic deficiencies and suppressing free speech. At the end of 2015, Turkey reopened talks with the EU on future membership.