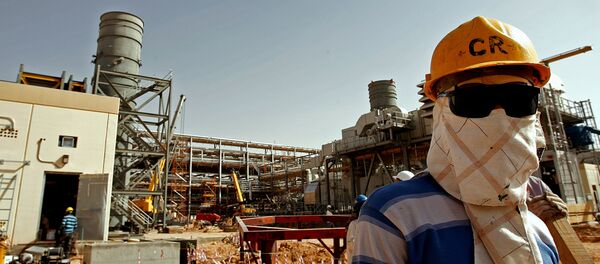 9 January 2016, 15:07 GMT
WASHINGTON (Sputnik) — Saudi Arabia's oil production levels will be much more significant to the global economy than the initial public offering (IPO) of state-owned oil company Aramco, former US Treasury Department Deputy Assistant Secretary for International Trade and Investment Policy Gary Hufbauer told Sputnik.
On Friday, Saudi national oil giant Aramco announced that it was considering offering shares of its corporation for sale to public investors. Aramco's decision to go public comes amid record low oil prices, which some attribute to oversupply.
"I don't think the [Aramco] IPO has much meaning for the global economy," Hufbauer, who is also a senior fellow at the Peterson Institute for International Economics, told Sputnik on Monday. "But critical will be Saudi decisions on production levels in the months ahead."
The Aramco IPO, Hufbauer explained, is essentially a "flag" symbolizing that the Saudi leadership intends to privatize several sectors of the economy, but is unlikely to relinquish control of its national oil corporation.
"My guess is that the IPO will be a small fraction of Aramco shares," Hufbauer predicted. "The Saudi government will remain in firm control of all aspects of Aramco's business."
Moreover, he added, any revenues Riyadh raises from the initial public offering are unlikely to be large enough to alter the "bleak Saudi fiscal and FX position."
On Monday, US West Texas Intermediate crude and Brent crude futures tumbled to a 12-year low amid global overproduction and new concerns over China's stock market.