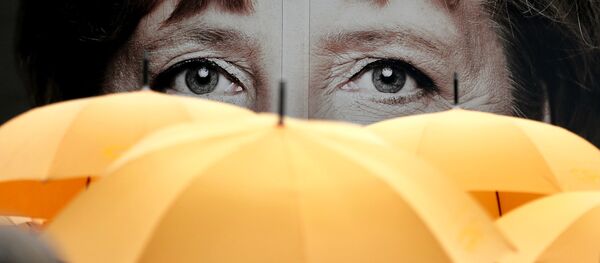 11 January 2016, 15:48 GMT
Germany's migrant-incited chaos shows no sign of abating and the country currently remains on the edge of emergency, Volker Wagener of the German news network Deutsche Welle said.
He referred to panic-stricken politicians in Berlin, where all the parties, including the opposition left-wing ones, are unanimously demanding a heavy-handed state crackdown on refugees, and are calling for deportations and the tightening of existing laws.
"However, these demands are unlikely to be met in a country where the judges pay little attention to politicians' orders because of the principle of separation of powers," Wagener said.
According to him, the fundamental problem is that the German government gave up control on the country's borders and thousands of people arrive in Germany each day without registration. No one even knows where they came from, Wagener added.
© AP Photo / Armin Weigel
Refugees walk to a chartered train at the railway station of Passau, Germany Tuesday Jan. 5, 2016.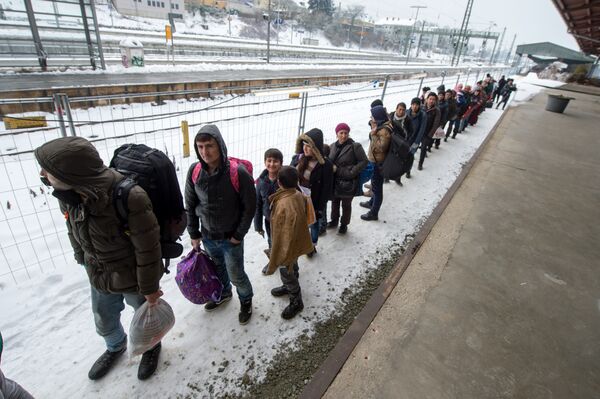 Refugees walk to a chartered train at the railway station of Passau, Germany Tuesday Jan. 5, 2016.
© AP Photo / Armin Weigel
He went on to say that the federal government is clearly turning a blind eye to the possibility of terrorists being among more than one million refugees who have already entered Germany.
Tragedy is German railway stations were symbols of welcome given to #refugees from #Syria. Now a station has become a symbol of fear & hate.

— Jon Williams (@WilliamsJon) 10 января 2016
Notably, the government relies on the professed supporters of a multicultural society, who constitute the majority in the political establishment and the media, Wagener said.
"Today, even the most ardent devotee of multiculturalism should realize the fact that the massive influx of young men from North African Arab countries  may blow up the internal order in Germany," Wagener said.
The political and emotional climate is rapidly deteriorating in Germany due to the migration crisis, he said, referring to the attacks in Cologne which took place on New Year's Eve, when hundreds of women at Cologne's central train station were subjected to a series of sexual assaults, molestation, lewd comments and behavior, as well as robbery.
"It is high time we should do something about this, given that Economic Cooperation and Development Minister Gerd Muller predicts that up to ten million migrants may arrive in Germany in the coming years," Wagener said.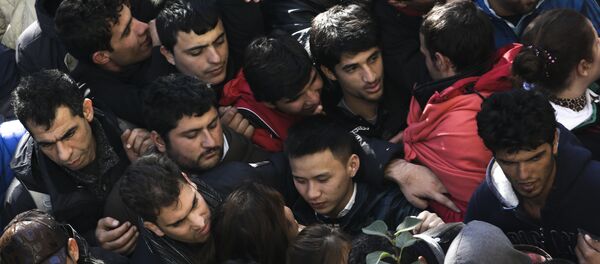 3 January 2016, 08:11 GMT
He warned against Germany pinning its hopes on help from Britain, France and Hungary, which he said "have hidden behind closed doors."
Wagener said decision-makers need to call a spade a spade and admit that Germany is currently failing to resolve the migration crisis, something that he said it needed to solve all by itself.
"We cannot cope with the problem, and the situation will only exacerbate if we fail to slow down the influx of refugees in the near future. We must choose between Schengen, namely freedom of movement in Europe, or a unique German law on an individual right to asylum. We cannot preserve both," he concluded.