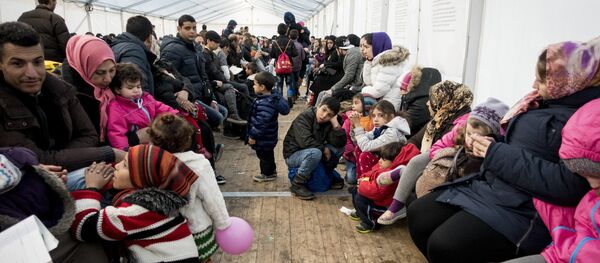 12 January 2016, 11:18 GMT
MOSCOW (Sputnik)
–
The poll found that only 14 percent of female respondents in January said that Germany could accommodate more refugees, whereas in mid-November, 19 percent of women were positively disposed to welcoming additional refugees.
Meanwhile, among men, the number of those who believed the country could still take in more refugees remained the same in both November and January, according to the poll, and stood at 22 percent.
YouGov explained that the shift in opinion among female respondents was probably caused by a perceived link between the New Year's Eve attacks on women in Cologne, Germany, and Chancellor Angela Merkel's welcoming refugee policy.
On New Year's Eve, hundreds of women in several German cities, including Cologne and Hamburg, were robbed, threatened and sexually assaulted by groups of men, mainly of Arab and North African origin. According to the German Interior Ministry, 29 of the 32 suspects in the incident are registered as asylum seekers in the country.
On January 6, the German Interior Ministry said that over 1.1 million refugees arrived in Germany in 2015, as it is one of the most popular destinations for people fleeing conflict-torn countries in North Africa and the Middle East.
YouGov Deutschland interviewed 1,161 people in Germany between January 8 and 11 for the poll.