His calls echo those of his Hungarian and Polish counterparts, who have both spoken out against the spread of refugees and that lack of action by the EU to protect its borders. They have also been critical of Germany — and its Chancellor Angela Merkel in particular — for its liberal attitude to refugees, which Fico described as "political correctness."
Slovakia's vow to not accept Muslim refugees and the outpouring of support for the policy is the most bigoted thing I've seen in 2016

— bunz (@BunnymanSevim) January 8, 2016​
Fico said, in a TV debate following the Cologne assaults, that migrants are being treated like a "protected species" and called for urgent action to stem the flow of refugees and other migrants flooding into Europe.
— Greig Markham (@BearGardenMan) January 10, 2016
The racists now seek to stigmatize all Syrian migrants and exclude them because of Cologne. Disgraceful. Refugees deserve respect.

— Peter Sutherland (@PDSutherlandUN) January 10, 2016​
He has already refused to take part in the European Commission's plan to relocate 160,000 using a mandatory quota system.
"Not only are we refusing mandatory quotas, we will never make a voluntary decision that would lead to [the] formation of a united Muslim community in Slovakia. Multi-culturalism is a fiction. Once you let migrants in, you can face such problems," he said in a reference to the November 13 shootings in Paris and the Cologne assaults.
Slovakia is a largely Catholic country with a population of 5.5 million and which took in only 170 refugees last year, but is being asked by the European Commission to accept over 800 asylum seekers.
Support from East European Neighbors
Fico's comments are backed up by Hungary's Prime Minister Viktor Orbán who has called for the EU to pay for a new frontier to be erected on the northern Greek border because he does not believe a US$3.4 billion deal to pay Turkey to stem the flow of refugees will work.
European Union leaders have agreed to pay Turkey US$3.4 billion and allow visa-free EU travel for its citizens in return for Ankara doing its utmost to stem the tide of asylum seekers crossing its borders to reach Europe.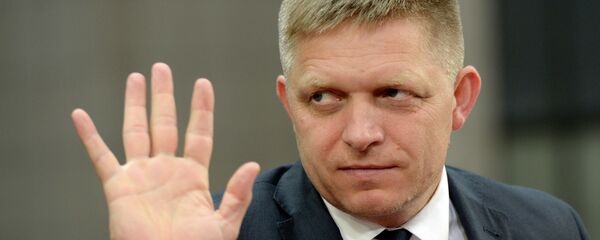 2 December 2015, 13:12 GMT
However, Orbán — who has gained popular support for his tough stance on refugees and was quick to erect razor wires fences along Hungary's borders in September 2015 — said he does not believe the Turkish plan will be sufficient to deal with the refugee crisis.
Poland's Prime Minister Beata Szydlo accused Western European and German politicians last week of not having taken the refugee problem seriously enough, while the Czech Prime Minister Bohuslav Sobotka called for the immediate and automatic deportation of offender-refugees from Europe.
The Romanian government has also said it would not join in the relocation scheme, while the Conservative-Liberal Romanian European lawmaker Traian Ungureanu wrote in the daily newspaper Adevarul, that Angela Merkel and her 'open doors' invitation to refugees had brought about the "disaster of the century."